Penrith real estate stalwart Colin Henry has activated the first phase of his succession planning strategy with the appointment of his son John Henry to the highly successful Raine & Horne Commercial Penrith team.
Mr Henry, whose career with Raine & Horne Commercial predates the national network's launch into franchising in 1993, said he was delighted that his son had decided to join his firm.
"John is no Johnny come lately to the world of commercial real estate," said Mr Henry, who manages a staff of 35 who oversee the management of shopping centres in two different states.
On the advice of Raine & Horne Executive Chairman Angus Raine, John Henry began his property career in 2017 with Daniel Krobot, Managing Director of Raine & Horne Commercial Macarthur, as a Sales and Leasing Executive.
"John has wanted to join Raine & Horne Commercial Penrith since he was in school," Mr Henry said.
"But Angus, who worked for several of the world's biggest commercial property brands before starting with Raine & Horne in 1998, advised John to earn his stripes elsewhere before joining us.
"I'm proud to say that at Raine & Horne Commercial Macarthur, John facilitated transactions across all commercial asset classes and assisted the Property Management Department before switching to ASX-listed property investment trust Vicinity Centres in March 2021."
Apart from his impressive employment resume, the younger Mr Henry is a Licensed Real Estate Agent, a member of the Australian Property Institute (API) and holds a Bachelor of Business (BBus) majoring in Finance and Economics from the University of Technology Sydney (UTS). He also recently completed a Master of Property Development (MProDev), graduating with a distinction from UTS.
Mr Henry said he was delighted that his son, who was born in Penrith and is a long-time Panthers supporter, was now part of the Raine & Horne Commercial Penrith team.
But Mr Henry is not calling time on his impressive real estate career just yet, revealing he'll be around Penrith for quite a while yet.
"John is super qualified, and my succession planning strategy involves working with him for the next decade or so at least and then I'll hand over the reins," he said.
"But before we get to that point, John will add plenty of value to the business and has already implemented some great IT changes that have improved our efficiency.
"He's going very well."
John Henry said several factors attracted him to join Raine & Horne Commercial Penrith, not the least of which is the business' status in the region.
"My father has a great business and reputation in our community, especially as he has sponsored the Penrith Panthers since 1987 and supported them since they started in 1967," he said.
"Since attending Penrith business, community and sporting events with my father as an 18-year-old, I wanted to work in this community and commercial real estate."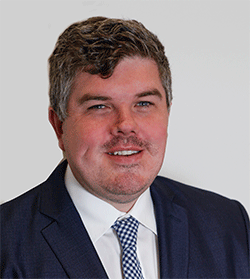 Troy Dodds is the Weekender's Managing Editor and Breaking News Reporter. He has more than 20 years experience as a journalist, working with some of Australia's leading media organisations. In 2023, he was named Editor of the Year at the Mumbrella Publish Awards.