A plan for thousands of new houses south of Glenmore Park could finally go ahead after Penrith City Council endorsed a Planning Proposal to progress to public exhibition.
Developer Mirvac has been trying to re-zone the 206-hectare site known as Glenmore Park Stage 3, which is bounded by The Northern Road, Chain-O-Ponds Road and Mulgoa Nature Reserve, since 2018.
After being in Council in 2020, further amendments have been made including reducing the dwellings from 2,558 to 2,300, changes to zoning and lot sizes in some areas and additional land contributing to the open space in the C2 Environmental Conservation zone.
Samih Khan, whose family has lived on 25 acres on Chain-O-Ponds Road for nearly 40 years, addressed Councillors at an Ordinary Meeting to object to the Planning Proposal after they had refused to sign an agreement to sell their land.
"One of our objections is the open space and parkland on the property is about 60 per cent which is practically undevelopable compared with the developer-controlled property," Mr Khan said.
"The Mirvac controlled property has a fair amount of R3 zoning which is medium density residential that gives you high yield, but our property has zero even though it meets the requirements."
Mr Khan said if the proposed re-zoning went ahead, it would "favour a commercial multi-corporation" instead of long-time residents.
The Councillors then jumped into a lengthy discussion questioning different aspects of the proposal and requesting further information from Council officers.
Councillor Todd Carney moved the report saying it was an important stage to get community feedback.
"If we don't get it out to public exhibition, we won't get the feedback we vitally need to make the right decision," Cr Carney said.
"I encourage every community member whether you support it or are against it to make contact with Council and if you think something has been missed request a Council officer to come check out the sites."
Councillor Kevin Crameri requested a memo regarding potential compensation for properties that may be impacted with larger amounts of environmental zoning on their land.
With other landowners also opting not to engage with Mirvac, Councillor Bernard Bratusa confirmed with Mr Khan that the main issue was that the proposal would impact any future decisions to develop their own footprint.
"I support my councillor colleagues in getting a better and fair outcome for landowners who are going to having it thrust upon them and yes I appreciate it is only 10 per cent of landowners," he said.
"This is a very important footprint we are developing but it is also a parcel of pristine land… we need to make sure that these landowners are not handcuffed going forward with their properties."
The councillors carried the motion with the Planning Proposal to be put on public exhibition by August 31.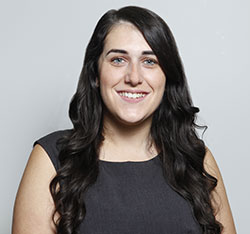 A graduate of Western Sydney University, Emily covers Local, State and Federal politics for the Weekender, as well as crime and general news.