Penrith residents face an anxious wait tonight with the Nepean River continuing to rise and thousands of people evacuated.
Residents in the western part of the Jamisontown area, the western part of Penrith and the northern end of Mulgoa Creek have all been evacuated tonight, with expectations that the Nepean River will reach a peak of 10.4 metres later tonight or early tomorrow.
The current river level at Penrith is now higher than the 1961 flood event, long considered one of the region's worst ever floods.
Those who have been evacuated are being urged to spend the night with family or friends if possible. Alternatively, an evacuation centre has been established at Castle Hill RSL.
What could happen in the coming days
If the flood level reaches 10 metres or more at Penrith, which it may overnight, flooding would occur in various parts of Penrith.
The SES has concerns about low lying parts of Emu Plains along River Road from the M4 to Jamison Creek, and some bank erosion between River Road at the Nepean River.
The northern end of the Penrith industrial area, and north of the railway line to Andrews Road between the Nepean River and Castlereagh Road is also a concern, as is the Museum of Fire at Penrith.
Evacuations for Penrith are underway as flood water are rapidly rising. #9News @AnnaliseBolt pic.twitter.com/j1SidOxSvt

— 9News Sydney (@9NewsSyd) March 21, 2021
The SES also expects floodwaters could cause an issue in the western part of Penrith between the Nepean River and Peach Tree Creek, from High Street to Jamison Road.
Western parts of Jamisontown between the Nepean River and Peach Tree Creek from Jamison Road to the M4, and low lying farmland between School House Creek and Mulgoa Creek and Martin Street is also a worry, as are properties along Martin Street between Mulgoa Creek and the Nepean River.
Businesses and schools close
Emu Hall was among the first businesses to close its doors today, forced to shut down as concerns over rising flood waters escalated.
Penrith CBD business Tins and Wood closed its doors tonight, while a number of restaurants also ceased delivery operations due to the weather.
Restaurants along the Nepean River at East Bank have also been forced to close.
Penola Catholic College, Leonay Public School and Nepean High School have confirmed they will not be operational tomorrow.
Penrith Valley Learning Centre will also be closed.
Roads remain dangerous
A number of roads remain closed throughout Penrith due to localised flooding.
Wallacia Bridge was closed earlier today.
Castlereagh Road between Jane Street and Thornton Drive remains closed in both directions in Penrith, while River Road at Emu Plains is closed between Hunter Street and Urbane Street.
Police have also closed roads leading to the Nepean River, including Jamison Road and Factory Road.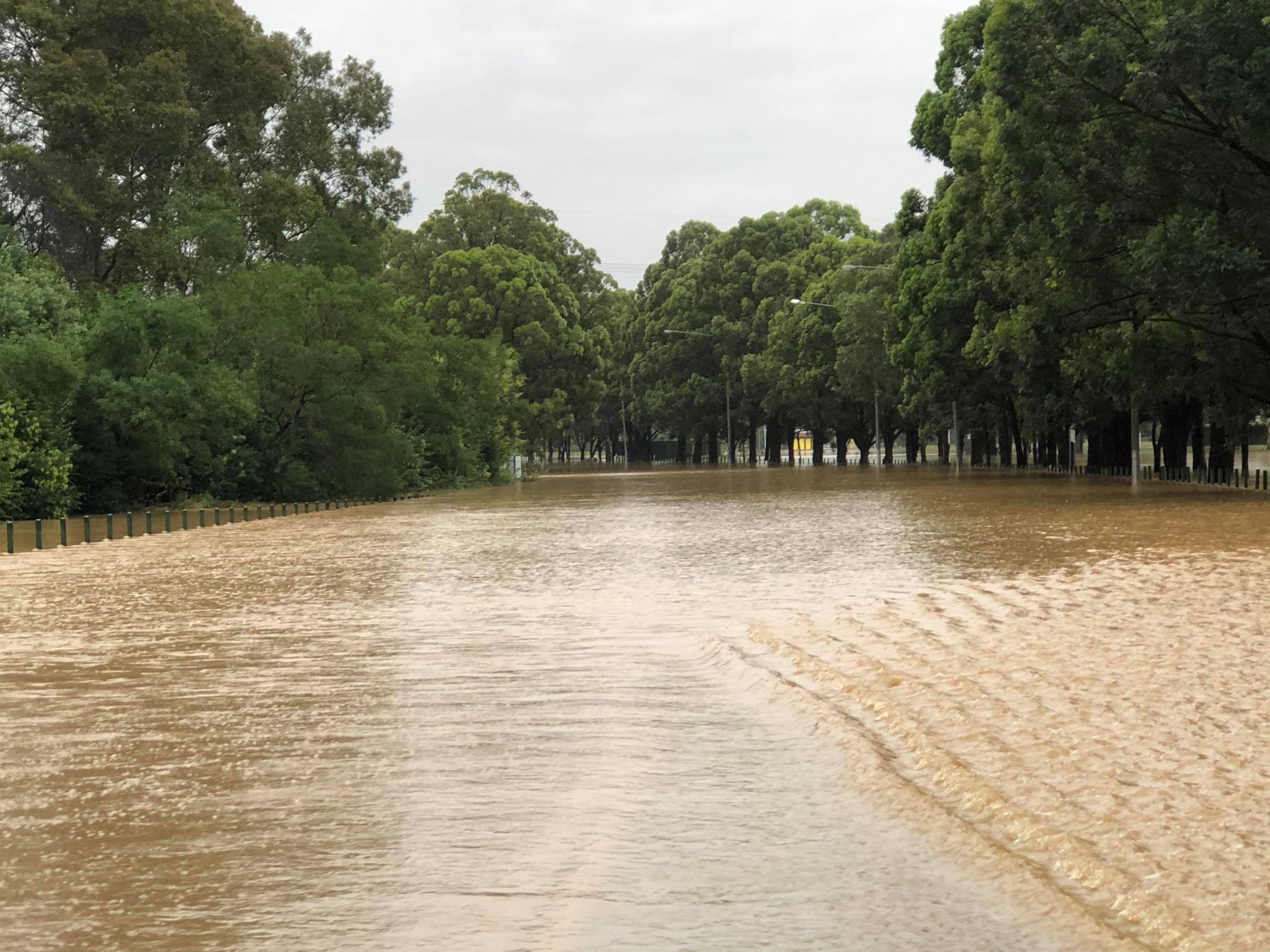 Police and the SES are urging people to stay off the roads unless absolutely necessary after they were faced with heavy traffic today, with many driving around just to look at the floodwaters.
People are reminded to never drive through floodwaters.
"One-in-50-year event," says Premier; Federal Government to help
NSW Premier Gladys Berejiklian said the Penrith area was dealing with an almost unprecedented crisis.
"At this stage we anticipate a one-in-50-year event. It is important for everybody to be on high alert," she said.
Meantime the Federal Government has confirmed that support payments have been activated for residents of the Penrith Local Government Area.
Payments offer support to those heavily impacted by the storms.
Federal Member for Lindsay, Melissa McIntosh has been on site with the SES and local volunteers across flood affected areas and welcomed the payments.
"We know how important it is to act quickly and efficiently, so we've jumped into action to activate support for people affected by the storms and floods," said Ms McIntosh.
"I've been in regular contact with Minister Littleproud on the rapidly changing conditions and to make sure the Penrith LGA was included from the outset so our community has the support it needs.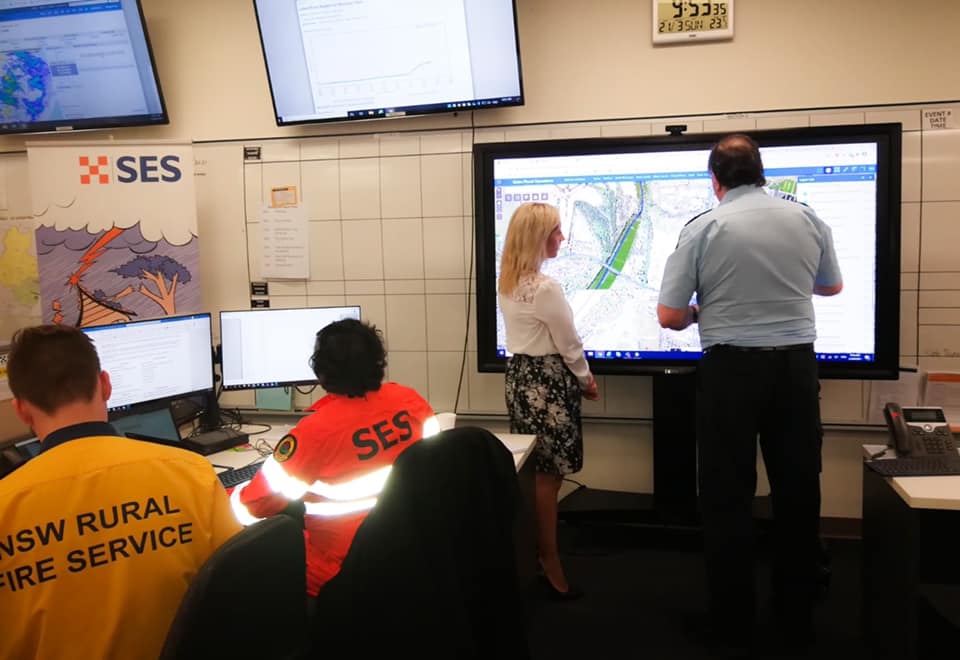 "Our community spirit is on display with our brave SES and selfless volunteers rallying to protect our community.
"This support is part of the Government's quick response to assist those impacted directly by the floods."
Correctional centres evacuated
Emu Plains Correctional Centre and Amber Laurel Correctional Centre have both been evacuated due to the flood risk.
It's understood 35 minimum security female inmates from Emu Plains and 25 male and female inmates from Amber Laurel have been moved to other facilities.
Commissioner Peter Severin commended staff for the professional way they are dealing with these difficult situations.
"The safety of our staff and offenders is paramount when deciding whether to evacuate a correctional centre," Mr Severin said.
"We have strong flood management plans in place and are well prepared for such situations."
Shake-up for Panthers ahead of Melbourne game
Penrith may relocate their training this week to Panthers Stadium with the club's training fields at the Rugby League Academy likely to be flooded.
The Academy itself is expected to be fine given its elevation.
The Panthers are due to play Melbourne in Penrith on Thursday night and at this stage the game is expected to go ahead as planned.
Panthers coach Ivan Cleary and Chairman Dave O'Neill were among those evacuated from their homes as part of the emergency.
Need help?
SES: 132 500
Emergency: 000
This image shows the full extent of the flooding situation in Penrith, NSW, Australia. #sydneyweather pic.twitter.com/3MxRHlsJlL
— Daniel Shaw (@DanielShawAU) March 21, 2021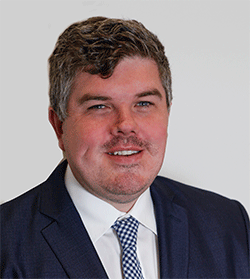 Troy Dodds is the Weekender's Managing Editor and Senior Writer. He has more than 20 years experience as a journalist, working with some of Australia's leading media organisations.