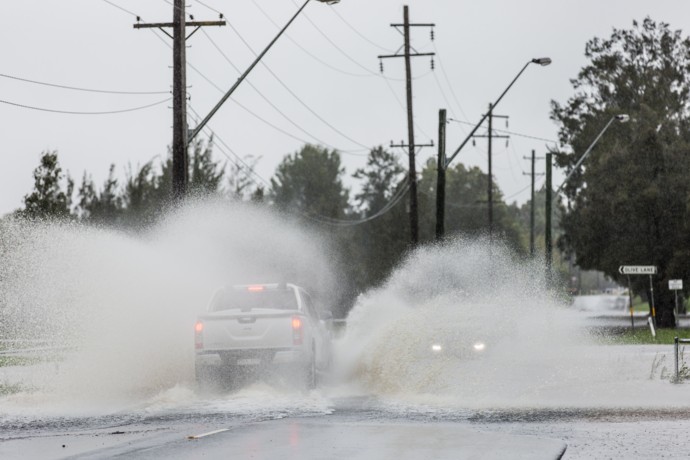 Dozens of roads are closed, sporting events have been cancelled and some schools will shut down tomorrow after heavy rain lashed Penrith throughout the day.
Almost 100mm of rain has fallen throughout Sunday, adding to yesterday's downpour. And there's more to come with the Bureau forecasting up to 35mm to fall tomorrow and 70mm in the three days after that.
There is extensive localised flooding causing problems for traffic, including in South Penrith, Jamisontown and St Marys.
Motorists are being urged not to drive through floodwaters while people are also being told to resist the temptation to swim or play in reserves and parks that have been turned into giant lakes.
"Under no circumstances should any one enter flood waters to swim, kayak or drive," Penrith City Council said.
"Emergency services and volunteer organisations are responding to this ongoing weather event and do not need to re-allocate resources. Flood waters are dangerous and they may be deeper and faster flowing than they appear and often contain hidden snags and debris."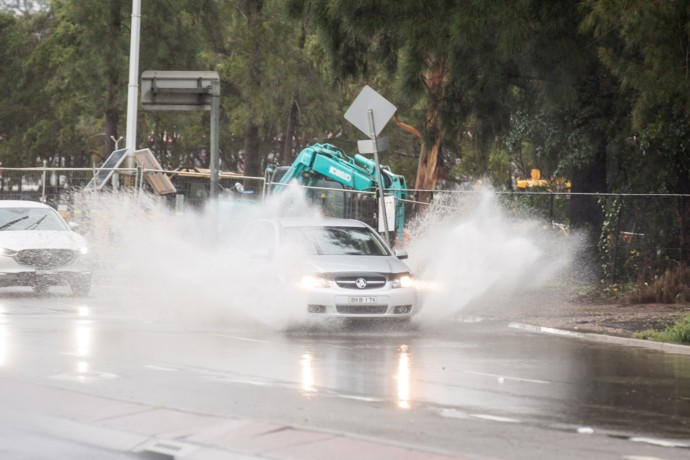 Penrith SES has also confirmed it's responded to "multiple jobs" where people have been trapped in floodwater.
The Kingsway is one of many sporting precincts under water – Penrith OzTag has already confirmed matches scheduled for this week won't go ahead.
"Not good at all. Last flood went about two feet into building, suspect this one may be a bit worse," Penrith OzTag said on its Facebook page.
"Remember when the floodwater clears we have to wait for the fields to dry, we have to get rubbish/debris cleared off fields and we need to mark the fields again before we are ready to play. This all takes time so please be patient whilst we get back up and running, which we will do as quickly as we can."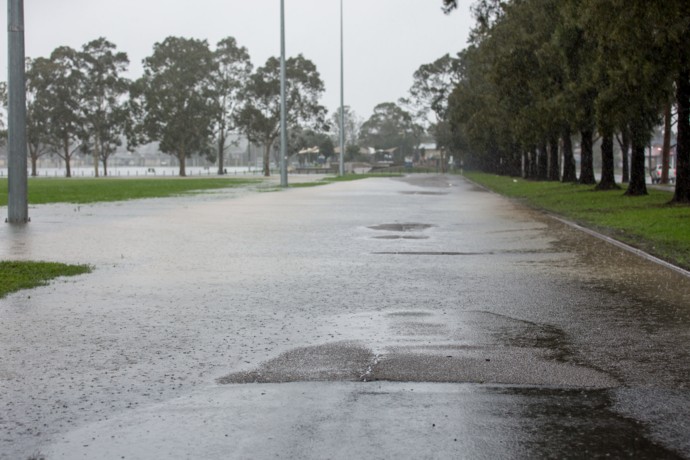 St Paul's Grammar School in Cranebrook has confirmed it has been "significantly" impacted by rainfall and will be closed on Monday, February 10.
Xavier College in Llandilo will also be closed tomorrow, with a major power outage unlikely to be fixed in time for the school day to begin. Surrounding streets are also significantly impacted by rain and several fallen trees.
Yarramundi, North Richmond and Windsor bridges are all closed.
There's concerns that Wallacia, Warragamba and Silverdale will be cut off in the coming hours as the rain continues to fall.
There also ongoing issues on the Sydney Trains network, with Penrith and Emu Plains services heading towards the city terminating at Strathfield due to an issue at Central. Services from the city are commencing from Redfern.