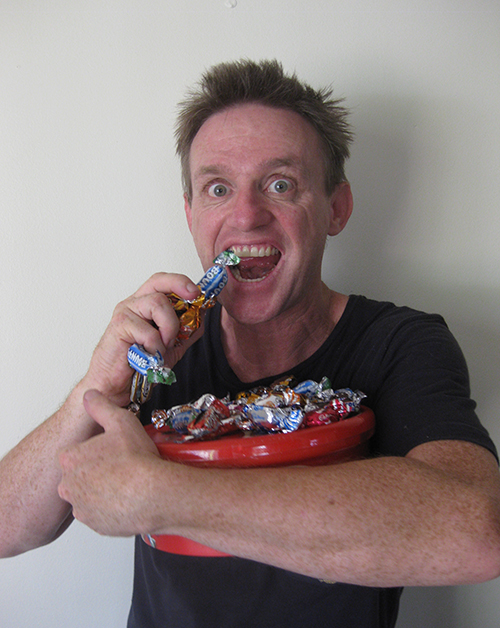 I grew up in a small beach suburb of Wollongong called Towradgi where, as children, we would ride in the back seat of the car without seat belts, when milk came in glass bottles and we listened to songs such as 'Bohemian Rhapsody' and 'My Sharona'.
It was the 70's and few houses down from where we lived was a corner shop a kid could only dream about. My best memories involved the lollies.
Walking through the bi-fold front door, down at a child's-eye level, was the glass counter cabinet stocked with the largest assortment of loose lollies imaginable.
I remember getting off the bus after school and piling in with other kids crowding over the cabinet full of lolly classics such as Jersey caramels, Chocolate buddies, Cobbers, Fruit Cocktails, Sherbets, Redskins, Spearmint leaves, Teeth, Chewy Milko Sticks, Milk bottles, Bananas, Black Cats, Honey Bears, Witchettie Grubs, Fags, Violet Crumbles and Strawberries & Creams.
Most are still around today in packets but l reckon some of the recipes have definitely been altered and so have their sizes.
My big favourite was the Cobber, l would suck the chocolate off first then crew and chew the hard middle caramel. I remember doing a similar thing with Violet Crumbles, I would bite the chocolate off first then eat the honeycomb. Another really big lolly favourite was the dusty Jelly Babies.
As a child, the first thing l ever bought was lollies and there was no other bigger purchase in life for a 10-year-old budgeting with 50¢ with the price of lollies costing, 1¢, 2¢, 5¢ or three 2¢ lollies for 5¢.
It was always a test of patience for the shopkeeper and not only with me making up my mind, but for every kid in the neighborhood. Living only a few houses down from the corner shop, we would often receive phone calls from some of the local elderly neighbours asking for me to run delivery errands.
The phone would ring, "Paully, can you run down to Mrs Sweeney's, she's got some money for you to get her a bottle of milk?" my mum would say.
I never hesitated and was out the door like a whippet. It was paying on average 20¢-50¢ just for delivering the milk. I ended up becoming the local neighbourhood runner.
And as quick as a flash, I was back at the corner shop to spend my money.
Ownership changed three times before it closed down in the 1990s and l had a great rapport with all the shopkeepers.
My mother still lives in the same house and when visiting her, l love taking a nostalgic walk down to where the corner shop once was; l feel like a kid again.
It's disappointing the demise of my childhood corner shop, but l have all those great memories that now l enjoy sharing with my kids.