Locals are being warned to stay indoors and keep pets safe with revised forecasts predicting temperatures to reach a scorching 43 degrees in Penrith later today.
It will top the 41 degrees reached in the area earlier this week.
There's only a small chance of rain ahead of only slightly cooler conditions tomorrow, where temperatures are likely to peak at 35 degrees.
A total fire ban has been issued for the Penrith area.
Ashley Fruno, Associate Director at People for the Ethical Treatment of Animals (PETA) Australia, said it's important to remember our furry friends on days like today.
"As temperatures soar and reach new records all over the country, please remember that dogs should never be left in parked vehicles — which can become death traps in a matter of minutes," she said.
"Even on a mild, 25-degree day, the temperature inside a car parked in the shade can soar to between 37 and 50 degrees in minutes, and on a 30-degree day, the temperature can reach 70 degrees in less than 10 minutes. Leaving the windows cracked (or even halfway down) and/or leaving water in the vehicle will not keep animals comfortable or safe.
"With only hot air to breathe, dogs can succumb to heatstroke in as little as 15 minutes, resulting in brain damage or death. Symptoms include restlessness, excessive thirst, heavy panting, lethargy, lack of appetite and coordination, dark tongue, and vomiting."
Elderly residents are also being advised to stay indoors to avoid the scorching heat.
At 9.30am it was 26.5 degrees in Penrith.
While today will be hot, it won't break Penrith's all-time hottest day record, which sits at 46.5 degrees in January 2013.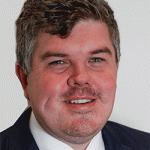 Troy Dodds is the Weekender's Managing Editor and Senior Writer. He has more than 15 years experience as a journalist, working with some of Australia's leading media organisations.