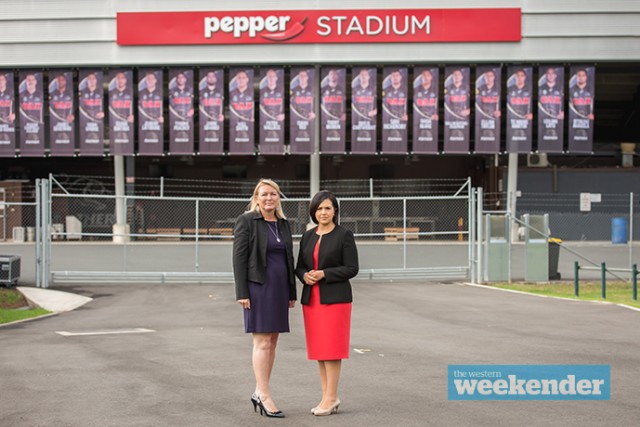 The State Opposition is accusing Premier Mike Baird of 'quietly' funding upgrades to Manly's Brookvale Oval, and not informing other local grounds such as Penrith.
The $10 million commitment, that wasn't disclosed in Premier Mike Baird's stadium funding announcement last week, was released to the media after close of business on Friday afternoon.
At Pepper Stadium on Tuesday, Shadow Sports Minister Lynda Voltz said other sporting grounds weren't told the extra funding was available in the $1.6 billion stadium strategy.
"The Government had a list of priorities, that no money was going to a tier two stadium until after 2025. A higher priority than that was building a new stadium in greater western Sydney," she said.
"Yet, the first announcement out of $1.6 billion is $10 million into Brookvale Oval, which is completely against everything they said."
Ms Voltz claimed the Government started handing out money before allocating it strategically.
"The pot of money will probably disappear before we even get past Allianz Stadium and Homebush," she said.
"If you were serious about having two major stadiums, you wouldn't be handing out money to Brookvale."
Ms Voltz said if there's going to be a stadium strategy, the Government should create one that takes in the greater western Sydney area.
"This is where the growth is, and this is where they are going to grow the event market," she said.
REVEALED: PENRITH STILL IN THE HUNT FOR NEW STADIUM
While the State Government said a new outer western Sydney stadium isn't 'off the cards', Member for Londonderry Prue Car said there's been no real commitment.
"If it's not off the table, let's see how much money we are going to get," she said.
Ms Car said it has been Labor policy for months to focus on western Sydney and Homebush.
"Luke Foley announced that several months ago at a Labor Party conference, that our priority would be western Sydney, and a rebuild of Homebush," she said.
"The Government sort of copied our policy, came in kicking and screaming, and it took the Premier to come back from overseas and fix up Stuart Ayres' mess."
The State Government matched funds for Brookvale Oval after its local member, former Prime Minister Tony Abbott, secured $10 million in Federal Government funding for upgrades.
The state's funds are from a new $40 million NRL Centre of Excellence fund.