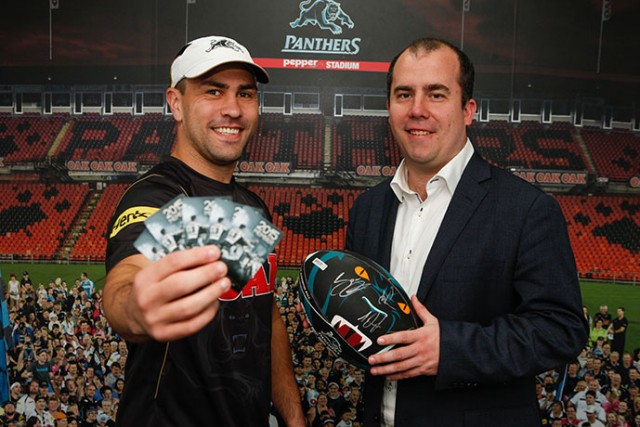 The Penrith Panthers have set a new all-time membership record with more than 17,000 committed fans signing on already this season.
But the club isn't stopping there with an even bigger target already in sight.
The Panthers are laying down the FIVE 4 TWENTY challenge to members, fans and the entire Penrith community to help the club reach 20,000 members in 2015.
As the name suggests, there are some great rewards on offer for those who assist the club to reach the historic milestone.
Any Panthers member who recruits five new members will receive 20 per cent off the cost of their membership next season.
But the ultimate, once-in-a-lifetime opportunity lays in wait for the dedicated fan who recruits the most new members. He or she will get to spend a match day with Panthers coach Ivan Cleary – an incomparable inner sanctum experience.
The winner will join Cleary in the Pepper Stadium sheds for his pre-match team talk, watch the team warm up from the sideline, enjoy the match from the players' enclosure, experience the half-time talk and, hopefully, the team celebrations after the final whistle.
Panthers General Manager Consumer, Nathan Russell, is encouraging the Penrith community to lead the charge towards 20,000 members with the FIVE 4 TWENTY initiative.
"This is the perfect opportunity for our loyal members to reach out to their mates who are Panthers fans and encourage them to take up a membership," he said.
"With every referral, our members put themselves in contention to spend a match day with Ivan and soak up the experience of being in the sheds and on the sideline with the team.
"Even those who miss out on this incredible major prize still enjoy a substantially discounted membership next season."
Panthers members can start recommending their mates now at membership.penrithpanthers.com.au/five-4-twenty.
– Nathan Taylor