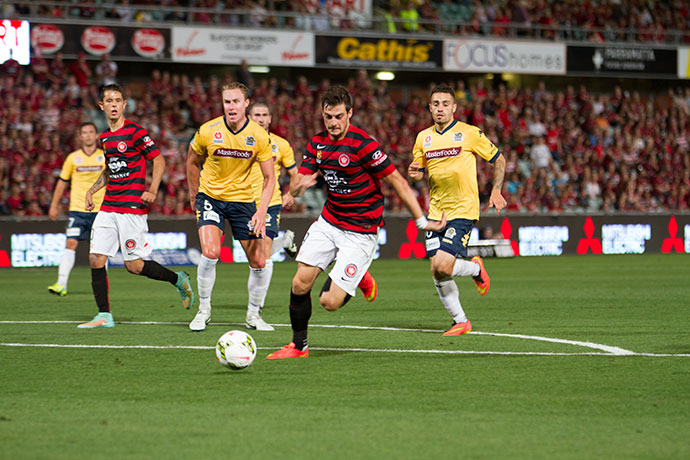 Opinion by ADAM PEACOCK
In my final article for the season, my final thought for the season is along the lines of how to make a growing competition grow more.
And while we might have a fantastic month of football ahead with culmination in the Grand Final on May 17, for mine the way to grow the A-League rests with those already out of contention.
In any competition, no matter what sport it is, anywhere in the world, there are haves and have-nots.
Perennial profit makers, strugglers stuck in a recurring theme of battling to stay relevant.
Successful clubs all stand for something. Melbourne Victory, Sydney FC and thanks to the Champions League title and raging successes of the previous two campaigns, the Western Sydney Wanderers all aim to be the biggest and the best.
All three have resources that are more than adequate, and getting better by the day.
Brisbane and Adelaide don't have the financial clout of the other three, but their model of a distinct playing style gives the Roar and Reds identity in one club cities that have in the past produced plenty of players.
Melbourne City, in the embryonic stages of a new life thanks to the Abu Dhabi investment, will be a powerhouse in years to come. A $15 million training base, worldwide network of scouts and club philosophy in line with Manchester City dictates good times ahead.
Wellington have a whole country to choose from, and mixing local talent with relevant imports has been a difficult balance that Ernie Merrick has got right this season.
The owners of the club seem happy to back their man, which is a start, but I'd place them in between Sydney, Western Sydney, Victory, City, Adelaide and Brisbane as "haves" and the "have-nots".
Which brings us to those "have-nots". And surprise, surprise, all three are a mess off the pitch.
Perth seem rudderless in a sea of Tony Sage cash. He's thrown million after million into the club, for what? 18 months ago they were to be a pathway for local WA talent. Great, fantastic. Then the man behind that idea Alistair Edwards got sacked, in came Kenny Lowe and they tried to buy a title, paid too much in trying, and will be paying for a while yet to get rid of the stench about the place.
What do they want to be? Who knows.
Newcastle Jets. Nathan Tinkler is all of a sudden paying attention to a club he's owned for nearly five years. Last weekend, the odds of getting an interview went from "Earth gets hit by meteor" to "Sun rises in East" as he went on a media blitz to win over opinion. After a mass clearout this season, he's now talking about paying full freight for two marquees, promising Jets fans he's in it for the long haul.
But what do they want to be? Who knows.
And the Central Coast Mariners. From the little club that could, to the little club that has become a laughing stock. A worldwide search was undertaken to find a new coach. Only for the interim coach Tony Walmsley, who did the interviewing, to appoint himself. Talk of player discontent is rampant. The place is a shadow of itself under Graham Arnold. What a farce. Local park football clubs are run more professionally.
What do they want to be? Who knows?
But for the A-League to grow, Perth, Newcastle and Central Coast have to figure out a way forward.
Each weekend, five games are on television. Five games are to be attended. Five games need to be of interest enough for people to give up their free time and hard-earned to be a part of.
The league can't go forward off the back of two good games a weekend. Not all will be classics, but the air of certainty, or discontent about three clubs will hold the competition back.
If they grow up, the A-League will grow.