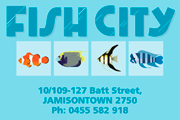 Penrith has an exciting new business in town, offering a one-stop shop for all the aquarium needs that local residents might have.
Upon walking through the doors of Fish City Aquarium, located on the corner of Batt Street and Regentville Road, Jamisontown, local residents will be amazed by the sheer range of specialist aquariums, corals, fish and aquarium plants.
The local store is carrying a full range of marine and freshwater options for residents looking to set up, restock or maintain their home aquarium.
"We are proud to call Penrith our home and are very excited to begin to meet local aquarium enthusiasts," said owner, Michael Chiappazzo.
"Like you, we are crazy about all things underwater and with loads of experience, we are well equipped to give you the best advice."
Mr Chiappazzo said locals can trust the great team he has on board at Fish City.
"Our team of friendly, experienced staff members know exactly what can make your home or office aquarium look its best. We have some simple tricks up our sleeves that will really have your guests amazed when they pop in to visit," he said.
The modern showroom, featuring livestock from goldfish and tropical fish to corals and marines, cichlids, discus and plants, is a great place for casual aquarium owners to have a browse but also has everything needed for those who are more deeply involved in aquarium keeping.
"We are the only specialised aquarium store in the area that offers a one stop shop for all your aquarium needs. We'd love to meet the local community so please, come down and say hello," Mr Chiappazzo said.
Fish City Aquarium is open Monday to Friday from 9.30am to 5.30pm.
For more information, pop in to see the team.