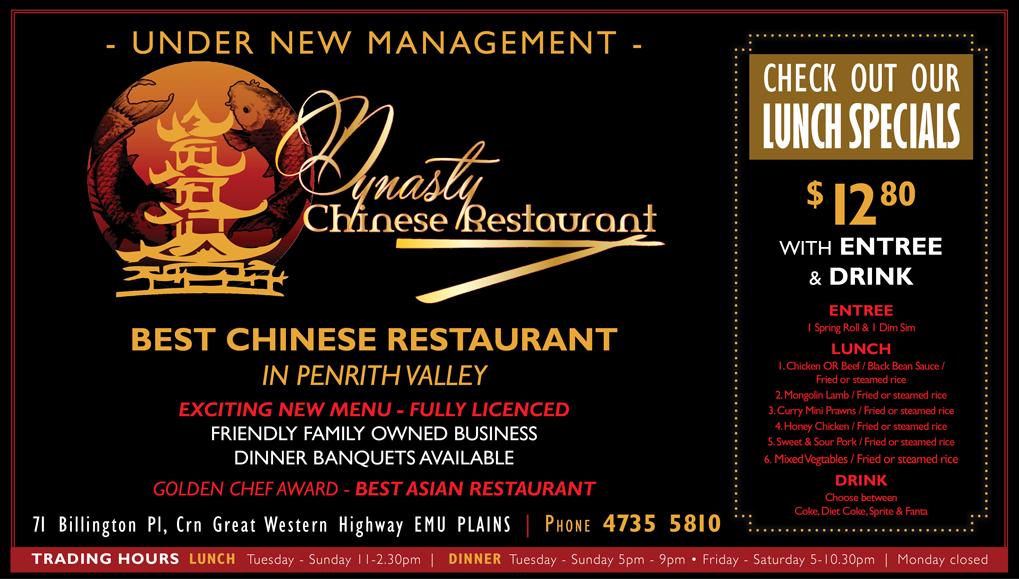 The best Chinese restaurant in Emu Plains is now under new management, and to celebrate they have released an exciting new menu.
Dynasty Chinese Restaurant has been operating for over 25 years, and is still a family owned business, but from December acquired fresh new management.
Owner, Mr Lam, said the quality fully licensed restaurant is keeping its classic award winning menu, but has added a few extra quality items, to tantalise your taste buds.
"We have a tasty Peking duck now, which the previous owners never had before and a crispy beef dish," he said.
"We have a wok fried diced steak with walnuts in honey and black pepper sauce, which is quite an exotic one so the flavours are incredible.
"For the seafood lovers, we've added a fried soft shell crab dish with salt and pepper."
Dynasty won the Golden Chef Award for 2012 to 2013 for Best Asian Restaurant for its quality authentic Chinese dishes, but its exquisite new items are sure to impress.
"They're awesome dishes and have maintained their really high award winning quality," Mr Lam said.
Dynasty have great value lunch deals where you can get an entrée, a main with fried or steamed rice and a drink for only $12.80.
Choose from two starters, and six different mains including mixed vegetables, honey chicken, Mongolian lamb, curry mini prawns, sweet and sour pork or pick between chicken and beef in a black bean sauce.
"We are so proud to announce our new menu and we're positive everyone will love it as much as we do," Lam said.
Dynasty Chinese
71 Billington Place, Emu Plains
47355810