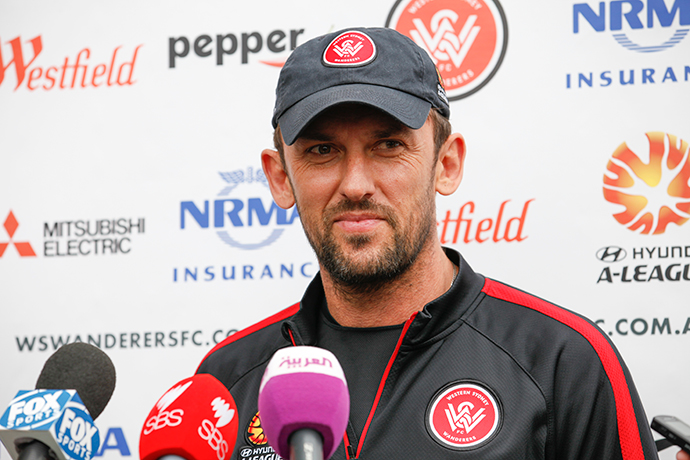 Western Sydney Wanderers coach Tony Popovic believes his side doesn't have anything to fix ahead of this Saturday night's Asian Champions League Final despite their poor start to the A-League season.

With the Wanderers currently sitting in the unusual spot of last on the A-League ladder, Popovic denied his side needed to attend to any areas of note ahead of this weekend's blockbuster against Al-Hilal at Pirtek Stadium.
"It's not about fixing… there's nothing [to fix]… it's about getting the boys ready for the biggest game of their lives," Popovic told the Weekender on Tuesday morning.
But like most coaches preparing for such an important game, perhaps Popovic didn't want to reveal the areas his side needed to address in front of Sydney's football media instead preferring to keep the areas that need to be looked at, like having the competition's worst defence, under his Wanderers cap.
In their opening two games against Melbourne Victory and then last week against Sydney FC, the Wanderers have leaked seven goals, which is two more than last year's A-League Champions in Brisbane, who are also off to a slow start to the year.
Popovic said he had to quickly put last Saturday night's 3-2 loss to the Sky Blues behind him.
"I'd be lying if I said I didn't think about it Sunday morning," he admitted.
"It goes over your head as a coach as it should but then once you reflect you have to move on. We've always been a club where whether we win or lose we move on. We haven't dwelled on defeats or got carried away with victories."
While their A-League campaign hasn't been up to their usual standard as yet, the Wanderers' run in the eight month competition that is the Asian Champions League has been somewhat remarkable.
For a club tipped to not make it past the group stage of the tournament, the Wanderers have certainly surprised the Asian football world by making it all the way to the final round.
"I feel proud and honoured to be head coach of an Asian Champions League Final," Popovic said.
"We're representing our country, we're representing Australian football, we're certainly very determined and have a real strong desire to have no regrets at the end of these two weeks."
Wanderers left-back Antony Golec, who only joined the club from Adelaide in February, said the upcoming two game final was a once in a lifetime opportunity.
"Hopefully we'll be the first club in Australia to win it," he declared.
The Wanderers take on Saudi Arabia's Al-Hilal in leg one of the Asian Champions League Final beginning this Saturday night at Pirtek Stadium from 7.30pm.