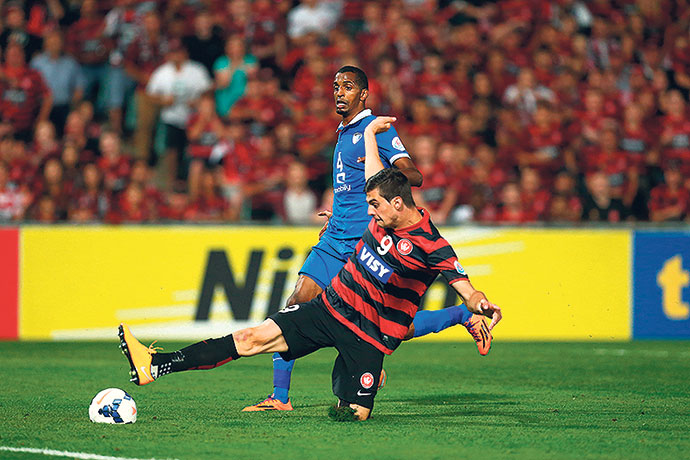 Western Sydney Wanderers captain Nikolai Topor-Stanley hopes it's third time's the charm this Sunday morning when his side meets Al-Hilal in the second leg of the AFC Champions League Final in Saudi Arabia.

After losing the A-League Grand Final twice in the last two years, the Wanderers are determined as ever to win Asian football's biggest prize and become the first Australian club to do so in the process.
Speaking at a media conference on Monday morning, Topor-Stanley said it was a "great feeling" to win the first leg of the AFC Champions League Final in front of 20,053 fans at Parramatta Stadium.
"It was a great feeling but one that we have to quickly put on the backburner because we haven't won anything yet," he said.
"This is our third bite at the cherry at a Grand Final so we really want to seize that moment and walk off with that trophy."
After a terrible start to the A-League season, the Wanderers were simply superb in front of their home fans last Saturday night with a Tomi Juric goal in 64th minute proving the difference on the scoreboard.
Wanderers goalkeeper Ante Covic's performance was also something to marvel, recording yet another clean sheet on home soil.
"We were disappointed by the two A-League results (losses to Melbourne and Sydney) but it doesn't define us defensively or as a team," Topor-Stanley said.
"We're just keeping our feet on the ground. We know we have a huge challenge ahead of us over their in Riyadh, so we just have to learn from our mistakes and be prepared for a massive game."
One thing the Wanderers will be wary about heading to the Saudi Arabian capital will be the 'interesting' conditions they'll face.
For them, it won't just be adjusting to the hot 34 degree weather that's expected but also the hostile crowd and unique style of refereeing that will also greet them at King Fahd Stadium.
"It'll be difficult… clearly the conditions are warm and it'll be a different style of football and different style of refereeing to adjust to," Topor-Stanley admitted.
"However, we had a pre-season tour there which is going to hold us in good stead and we can draw on those experiences when we get there.
"In regards to the crowd, I expect nothing less. It's part and parcel with it and it'll be a good story to tell the grandkids one day."
The Wanderers will look to wrap up the AFC Champions League Final when they meet Al-Hilal this Sunday morning. Kick off is at 3.50am with live coverage on Fox Sports.