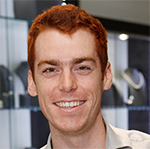 Many couples that visit us at York Jewellers ask about jewellery insurance and if it's worth having. In my opinion yes, it is. Especially for something as valuable and precious as your engagement ring.

If you are going to damage or lose your engagement ring it generally happens in the first few months while you're still getting used to having it on your finger – and in between trying to remember not to leave it somewhere whilst washing your hands or knocking it on something when you walk past!
If you think of it in comparison to a new car or phone, it takes a little while for you to become used to driving it and using it – only in this case wearing it. No matter how low the setting is or how well the ring fits there is always a risk.
We recommend that our clients look into taking out insurance on their treasured pieces to avoid being left unable to replace it like for like should the unthinkable happen and it is lost or damaged.
In my opinion Q Report is the best jewellery insurance available and we are proud to offer this service to our York Jewellers clients.
How do you go about insuring your jewellery? We can take care of that for you before you even walk out of the store with your ring. How's that for piece of mind!
We will give you a quote to insure it for 12 months and arrange a cover note within a few minutes, followed shortly by a beautifully presented booklet with photos and details of your ring to ensure that all information is at hand if you need it.
Why Q Report? Q Report offer very comprehensive cover and allow you to wear your loved pieces with confidence. They protect against loss, theft and damage worldwide so there's no need to upgrade your policy when you travel.
You will also be guaranteed to be able to return to us at York Jewellers to assist you in replacing the ring if the time should ever come. This is very important to us as we want our clients to be able to replace their beautiful piece with the same quality workmanship and diamonds or gemstones as the original.