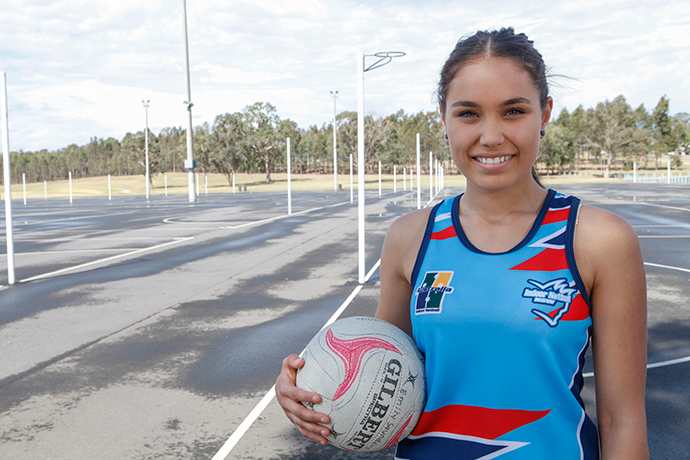 At just 16, Emily Saunders has achieved more than most in her netball career so far.

A late comer to the sport at age 10, Emily has been a sensation ever since she picked up a Gilbert.
Not only has she represented the Penrith District Netball Association at state tournaments nearly every year since she's been playing but next month will travel all the way to Western Australia to represent NSW for the second straight year.
Emily will travel to Perth in late November as a member of the U16 Ladies Indoor Netball NSW Blues State team who will take part at the National Championships.
It will be the second time the St Clair resident has represented her state since taking up the indoor version of the game a little over 12 months ago.
"Last year I was encouraged by my outdoor coach to try indoor netball and I'm really glad I did," Emily said.
"When I made the NSW team last year I felt really privileged to wear the blue uniform. It was really exciting to be able to say I'm representing the state and I can't wait to do it all over again."
However, fulfilling Emily's dream for a second time does come at a cost with the trip to Perth for the National Championship costing upwards of $2000 per player.
To help her along the way, the Year 10 Caroline Chisholm student has put the call out to local businesses and individuals for assistance through sponsorship.
"I'm trying to get sponsorship because it does cost a lot of money to head over there," Emily said.
"We have $650 from local businesses so far but it would be nice to get a bit more."
People who sponsor Emily will receive a certificate of appreciation as well as a NSW team photo for donations of $100 or more. Businesses who donate under $100 will receive a certificate only.
To sponsor Emily on her quest to represent NSW in Perth, contact her mum Jenny Saunders on 0412 493 451 for more information.