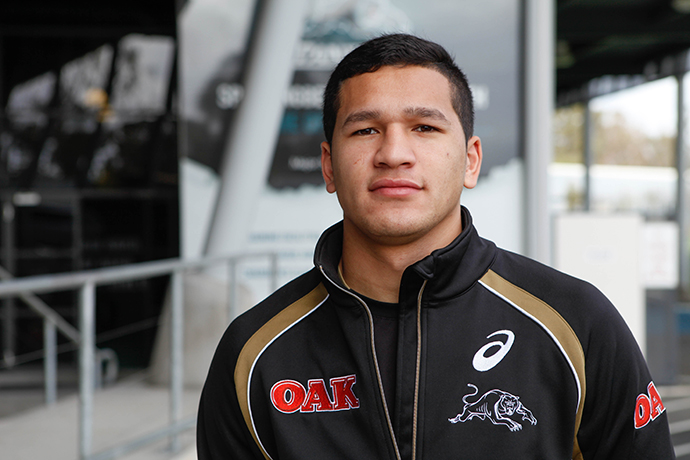 Panthers winger Dallin Watene-Zelezniak was famously told of his impending first grade debut on April Fool's Day earlier this year. At the time the then 18-year-old assumed it was just a cruel schoolyard prank from the first grade coach but he quickly caught-on that Ivan Cleary wasn't joking and his career in the NRL was just about to begin.

Since his first game back in April against the Canberra Raiders in atrocious conditions at Sportingbet Stadium, Watene-Zelezniak has made seven appearances in the NRL scoring four tries with two of those coming on debut.
"That feeling of playing my first game was one of the best feelings I've ever had," Watene-Zelezniak told Extra Time.
"My plan was to start stringing some games together and that's what I've been doing. It allows me to get some consistency and form, so hopefully I keep my spot there."
Watene-Zelezniak burst onto the rugby league scene in a big way during last year's Holden Cup competition.
The former St Clair Comet played a huge role in Penrith's run to NYC glory last season and is predicted by many to become one of the game's biggest talents in the not too distant future. Watene-Zelezniak said remaining grounded and playing with a smile on his face has helped him enjoy his football more.
"There's no 'I' in team and I can't be the player I am without the team around me. Keeping humble is the main thing and not getting ahead of myself," he said.
"My manager always says this quote to me: 'Today's newspaper is tomorrow's fish and chips paper' – so that helps keep me grounded."
However, Watene-Zelezniak admitted he struggled with the pressures of NRL at first.
"At the start of the year, after a few games, there was a lot pressure but I just realised I've got to have fun out there," he said.
"There was so much pressure that I wasn't thinking about my game. I was just thinking that if I don't play good I won't be playing next week. Then the last couple of weeks I've been thinking this is my opportunity so I've just got to take it."
Watene-Zelezniak is signed with the Panthers until the end of the 2015 season but the 19-year-old admits he still isn't sure whether he'll undertake a proposed two-year Mormon Mission following the completion of his current contract.
"I'm not sure yet… it's my decision but it's not forced upon you to serve your mission, it's your choice," he affirmed.
"Will Hopoate had a choice, he wasn't forced to go and he made a massive sacrifice doing it. When the time comes I will know. I'd love to stay at Penrith, I've been here since U12's development."