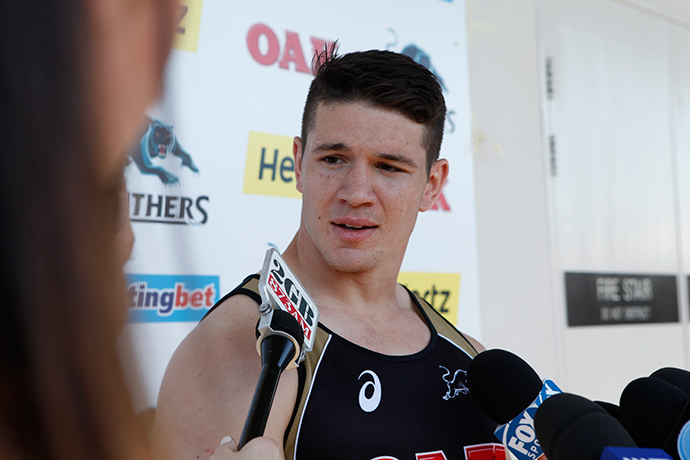 Serving a two game suspension for a dangerous throw, Panthers lock Adam Docker couldn't stand watching his teammates defeat the Sydney Roosters a fortnight ago.

The 19-18 win over the defending Premiers at Allianz Stadium was branded as one of the greatest wins in the club's history but 23-year-old Docker admits it was tough to watch.
"I hated watching the boys play," he told Extra Time.
"Just for the fact I wasn't out there helping them in the Finals, it sucked sitting out."
When Docker hits the field this Saturday night against the Bulldogs at ANZ Stadium, it'll be the biggest game of his career to date but it'll also be the first time he's played a game of footy since that Sunday afternoon at Brookvale Oval in Round 25.
Docker admits when he was put on report for a dangerous throw on Manly's Jason King, that he knew he would be in some trouble.
"Straight away when I did it I knew something was going to happen, I knew I'd get suspended for it," he said.
"I had 80 carry over points from the week before and I was sure they were going to pick something up from that tackle."
After spending four weeks on the sidelines due to suspension and Penrith's week off, Docker can't wait to return to what he does best on Saturday night. Although, he revealed he won't be as fresh from the rest as many people may think.
"You would think I would but I've had an injury, my knee's been playing up," he said.
"I thought a couple of weeks off would've done it good but it really hasn't. I just have to maintain it. I'm still good to play and I can't wait to play."
If Penrith make next Sunday's Grand Final it'll cap off a remarkable second full season for the young lock, who last week picked up the John Farragher Award for Courage and Determination.
"I spoke to John after I received the award and said I was honoured to accept it. It meant heaps to me, I was speechless and didn't know what to say," Docker said.
"John said I got the award for the way I play and for what's happened to me in the past and the way I came back from that."