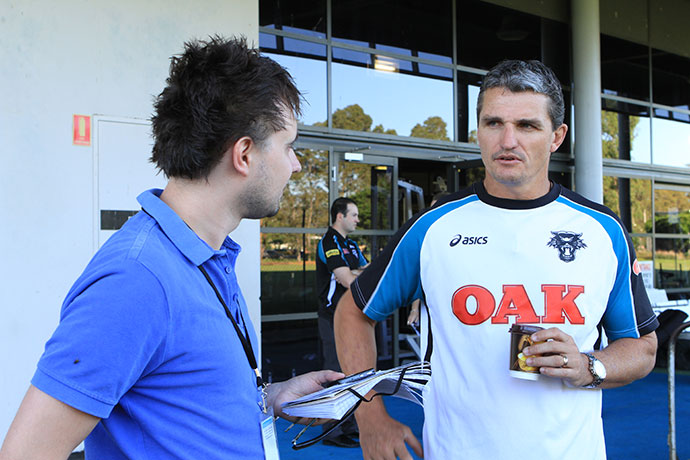 Panthers coach Ivan Cleary was rather upbeat and quietly confident ahead of his side's blockbuster qualifying final against the Sydney Roosters tomorrow night.

The Panthers will play their first finals game since 2010 at Allianz Stadium on Saturday after finishing the regular NRL season in the coveted top four.
Speaking with the media on Friday morning, Cleary said his side were up for the challenge against the defending premiers and competition favourites despite Penrith's lack of finals experience.
"There hasn't been a lot of finals action out here the last decade or so but I think the best thing for us is that we've been playing close to semi-final footy the last month or so, playing the top teams and every game has been meaningful," he said.
"Whilst a lot of our guys haven't actually played semis, I think we are just about as ready as we can be."
The last time these two sides met was a cold Saturday afternoon back in Round 19 when the Roosters completely dominated an understrength Panthers side 32-12.
Cleary said his side weren't up for the occasion that afternoon and were totally outclassed.
"We were far from our best that day and in many respects it was one of the few games during the year that we weren't quite there to win the game," he said.
"Having said that, the Roosters are a great team, they've been there done that. They are the premiers and form team of the comp but we know we can play a lot better."
And the Panthers are going to have to play their absolute best especially against a Roosters side currently on a six game winning streak heading into tomorrow night's game.
Despite finishing fourth, Cleary knows his side will be underdogs this entire finals campaign.
"We are underdogs, that's what we are, that's what we've been the whole season… it's not new to us," he said.
"We believe in our game and we know what works for us and what doesn't.
"It's been a big month or so for us to actually get here, now we've won that right, it's time to see how we go."
The Panthers take on the Roosters for spot in the preliminary final tomorrow night at Allianz Stadium at 5.50pm.