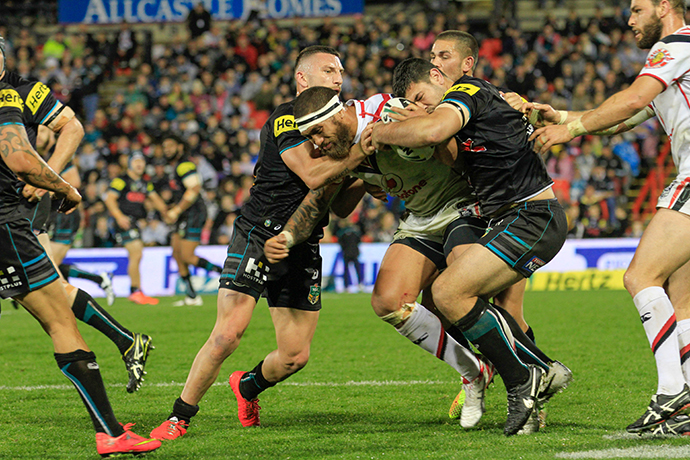 Well Panthers fans, here we are. The roller coaster journey of the regular season is over and Penrith face the Sydney Roosters this Saturday night in their first finals clash since 2010.
Should the Panthers win, it will be their first finals victory in a decade.
Should they lose, they've done enough to earn a second bite at the cherry.
Forget about first versus fourth. Forget about what happened during the regular season, or even last weekend.
This weekend marks the start of an entirely new competition, and no team has really put their hand up to declare they're sure things.
The Roosters are without doubt deserved premiership favourites, but they carry a huge weight of expectation on their shoulders. That is never easy, and if the Roosters do go on to win the trophy this year, they will become the first team since Brisbane in 1992/1993 to win back-to-back titles. It's just not easy to do in the NRL and if the Roosters achieve it, it'll be well deserved.
Standing in their way this weekend is a Penrith side that has defied every expectation and setback this season. It is a side built on integrity, trust and teamwork. This is a team that plays for each other, and constantly surprises you.
This week we've been given a couple of small insights into Penrith coach Ivan Cleary's game plan for this clash.
First, in an interview with Fox Sports after beating the Warriors last Sunday, Cleary spoke of how much of a privilege it was to play the Roosters this weekend. He turned the mind games on – almost suggesting the Roosters deserved to win, and it was an honour for Penrith just to be there. Cleary is being careful to not talk up his side's chances – they've flown under the radar all season and he doesn't want that to change now.
Second, Penrith held their weekly media session on Monday, less than 24 hours after the game against the Warriors ended. This type of turnaround is quite rare, and shows that Cleary wanted to get all of the distractions out of the way early in the week so he could do most of the work behind closed doors in the latter part of the preparation.
Ivan Cleary knows what finals football is all about – he's been there as a player, and as a coach with the Warriors.
To that end, he's used to dealing with low expectations from the media and the wider rugby league circle, and high expectations from supporters and players.
Truth is, Penrith have no right to win Saturday's game against the Roosters.
With their long-term injury toll in double figures and finals experience exceptionally limited, the Panthers are a small fish in a big pond.
But what is supposed to happen and what has happened are two very, very different things when it comes to the 2014 model of the Penrith Panthers. When people say they can't do something, more times than not they prove they can.
One thing Cleary has got more right than not this season is a game plan based on the team he's playing.
It's nothing overly-complicated, just identifying potential areas of dominance and allowing the players to do the rest. It'll be hard to find weaknesses in the Roosters, but they are there somewhere.
With Jake Friend injured and the judiciary causing some problems, the Roosters have a weakened forward pack this weekend. Their victory against South Sydney last weekend was somewhat impressive, but they really only piled on the points and rolled up field when the Rabbitohs were reduced to 12 men early in the second half.
Roosters coach Trent Robinson named Dylan Napa in his side on Tuesday but he was suspended later that night, with Heath L'Estrange to take his place on the bench. Jake Friend trained on Tuesday but is unlikely to play and hasn't been named in Robinson's side.
Penrith coach Ivan Cleary has named Jeremy Latimore to return from a two game suspension, replacing the injured Tim Grant. David Simmons has been named on a five-man bench but is unlikely to play.
Cleary and the Panthers will feel that the Roosters are somewhat vulnerable up the middle and I'd expect Penrith to focus their attack away from the edges, at least in the first half hour or so.
One thing is certain – Cleary will have his injury-ravaged, rickety train of Panthers prepared exceptionally well for this match. Anything could happen.
Tip: Panthers by 4