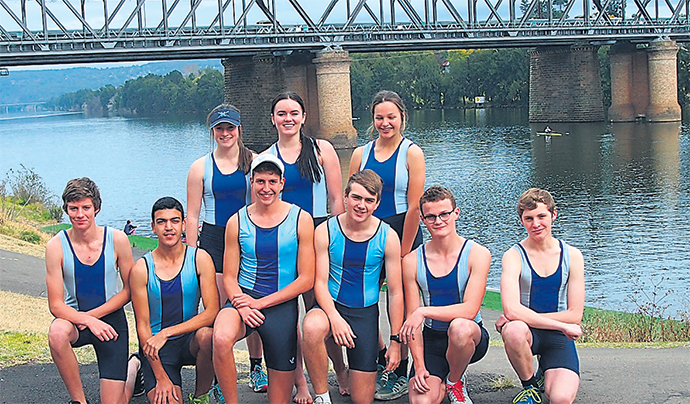 During the 1970's and 80's, the Nepean Rowing Club was home to a thriving hub of talented young rowers who went on to represent Australia and took on the world.
Now, some 40 years later, junior rowers are once again the focus at Nepean with the future looking very promising for its up and coming stars.
Recently, the Nepean Rowing Club Youth and Development Crews performed exceptionally well at the prestigious J.B. Sharp Winter Regatta Series. The Series was held across a number of clubs every fortnight including Glebe, Drummoyne, Balmain and Leichhardt.
Nepean finished the J.B. Sharp Regatta Series fourth overall in points with many local rowers winning their events against the highly-fancied inner-west clubs.
During the Glebe Regatta, 14-year-old Joel Salter won gold in the Men's U/16 Single Scull event with fellow Nepean rowers Angus Harrold, 13, and Campbell Beer, 16, placing second and third respectively.
Also winning their event in Glebe were the Men's Novice Quad Scull team made up of Chris Davies, Jim Shaw, Campbell Beer and Patrick Newbold.
Nepean also came home with two more wins during the final J.B. Sharp Regatta event in Leichhardt earlier this month with hot prospect Henry Robinson, 16, winning the Men's Open Single Scull while newcomer Madyson Gleeson-Romer took out the Women's Novice Single Scull event.
Speaking with the Weekender, Head Youth Coach Jacob Munday said the commitment and dedication showed by his young rowers at training was pivotal in their recent success.
"Our rowers are a committed group of switched on young people who attend up to seven sessions a week of both land and water training," he said.
"They work extremely hard and with the help of volunteer and exercise physiologist, Calum Pope, they are given the right training and advice."
19-year-old Munday has been a member of the Nepean Rowing Club since 2010 and became head coach of their youth team 12 months ago.
Munday hopes recent success combined with a hardworking coaching team will put Nepean's rowers in good stead for many years to come.
Upcoming events for the Nepean Rowing Club include the Head of the Nepean, the Scullers Head of the Nepean, and the Nepean Rowing Club Regatta.