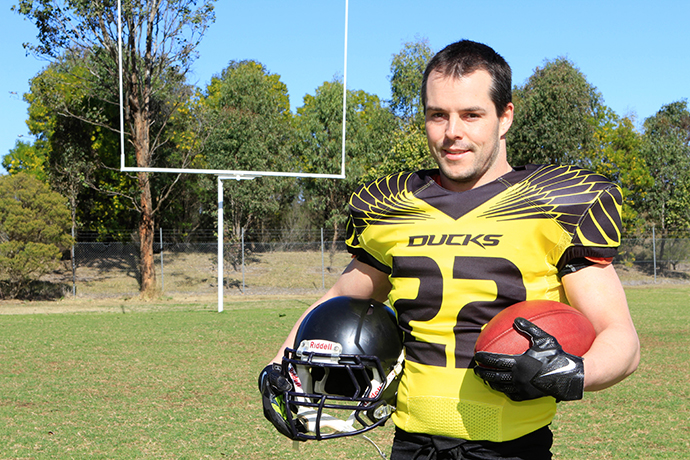 The newly-formed Nepean Ducks gridiron team will call upon a 20-year-old champion quarterback from Hawaii to lead their charge in the Gridiron NSW competition this season.

Travis Tamapua, who recently moved to Australia from the Aloha State, will debut at quarterback for the local side, who return to the senior men's competition this weekend for the first time in three years.
Nepean Ducks coach Lee Hines said he was thrilled over the acquisition of such an experienced player in Tamapua.
"Travis is a very experienced quarterback from Hawaii where he played high school football over there. He's really given us a big shot in the arm, to be honest," he said.
"He came down during the Colts season to ask about the club. We watched his exceptional highlights tape on YouTube and thought we had to get this kid in a uniform."
Tamapua will join a number of ex-players and newcomers on the Ducks' 40-man roster for the 2014 season. Hines said it was exciting to see so many players re-join the team after they folded back in 2011 due to lack of player involvement and finances.
"It was a good sign for us that players were willing to come back to Penrith despite being forced to play elsewhere over the past few years," he said.
"It gives us the culture that I wanted to bring back. Penrith's always been known for hitting hard and playing hard and these older guys know what Penrith football is about."
The Ducks' opening game of the season will be played against the Sutherland Seahawks in Caringbah this Saturday at 7pm.
While this year's line-up will be made up of both youth and experience, Hines hasn't openly outlaid too much expectation on his troops.
"We have our own expectations among the coaching staff but it's definitely going to be a competitive team," he said.
"Sutherland's senior men's side aren't as good as their recent Colts side who went undefeated and won the comp. We watched them play last week in a charity game and I think it's a very good game to open our season with."
Due to the lack of amenities, the Ducks won't play any games out of their traditional home of Cranebrook Park this season, but instead will play out of multiple venues across Sydney.