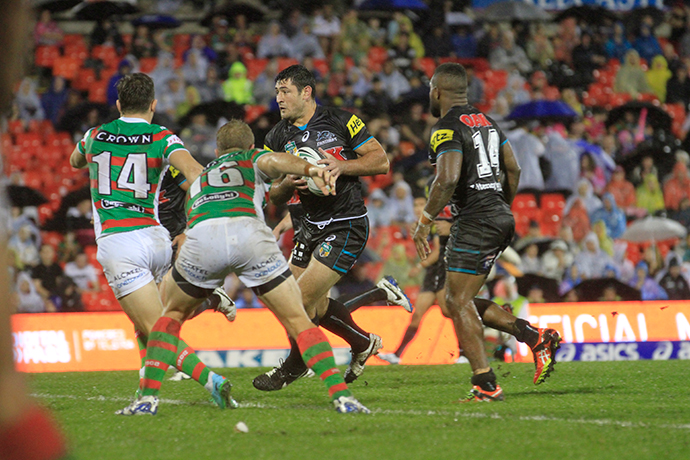 Along with close friend Tim Grant, Sam McKendry is one of Penrith's longest serving players.

He's endured some of the club's darkest days and also enjoyed some of the club's better moments, including this season where the Panthers are putting on quite a show for everyone to see.
While over the past few years many of McKendry's high profile ex-teammates have left the foot of the Mountains for one reason or another, the soon-to-be 25-year-old decided to stick it out and boy, is he glad he's done just that.
"I knew our time would come, I always felt it would," McKendry told the Weekender.
While McKendry's optimism is very refreshing to hear, earlier this year he was the subject of rumours of a potential move to the Newcastle Knights, due ongoing salary cap pressures at Penrith.
His friend Tim Grant was also caught up in those same rumours, and while Grant has since decided to move on to South Sydney next season, McKendry is rather glad everything worked out on his end, and he was allowed to stay.
"Everything is sweet now," McKendry admitted.
"I'm enjoying my footy and it's good when you're winning as well.
"We're playing as a team and momentum is on our side. Our new players have helped a lot and we're playing for each other as well."
The resurgent McKendry is enjoying life so much at the moment that he's decided to open up his own business alongside fellow Kiwi teammate Lewis Brown called Nutrition Station.
The franchised business, set to open in Emu Plains in August, will delve into the health food craze selling shakes, coffee, sandwiches and other healthy snacks.
But don't expect McKendry to be slicing and dicing up salad anytime soon.
"I'll pay someone to be the manager, I think," he laughed.
McKendry even entered the wild world of Twitter last week as an added promotional tool for Nutrition Station.
While Twitter can be a great outlet to connect with fans when you're winning, it can also be a hindrance when you're not.
"I'm prepared for the haters but what can you do about it? Nothing," McKendry said.