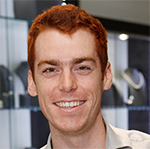 Your partner's birthday is coming up. Possibly a special anniversary? Maybe you need to select a gift for your bride to be to present to her before she walks down the aisle. I've got some great suggestions to help you to select the perfect gift for each special occasion.

The significance of the birthday will often determine the value spent on the item, and also the item itself. For something like a 40th or 50th birthday celebration this can often be commemorated with a nice watch for a man or a diamond piece of jewellery for women. In my experience I've found that you can't go wrong with a classic pair of diamond studs or a stunning, wide diamond dress ring for the right hand.
At York Jewellers we quite often see family members or friends pooling together to purchase a meaningful piece suited to the birthday girl/boy's personal taste.
Recently we sold a semi-precious coloured gemstone pendant to a family for their mum's birthday to replace one that was stolen during a burglary. It wasn't exactly the same as the one that was lost however it was the same colour and reminded her of the loved piece that she had had for many years.
Anniversary gifts tend to vary greatly. I often start by asking what the recipient's style is. Whether this will be something that is intended for everyday wear or special occasions? Do we need to match or compliment something that he or she already loves to wear – for example a diamond pendant to match some earrings that she favours? Do they have a favourite colour? Keep these topics front of mind to help ensure that the person receiving the gift will be able to co-ordinate it with their current collection.
Wedding gifts are even more special when personalised with engraving or having been custom made for the occasion. I have engraved many gents' watches over the years with the date of the wedding – which can also be a helpful reminder at anniversary time!
Cufflinks with initials are a great option too. Something for him to keep and treasure and wear again. Grooms will often surprise their bride to be with diamond or pearl drop earrings or a simple diamond tennis bracelet to be worn on the wedding day.