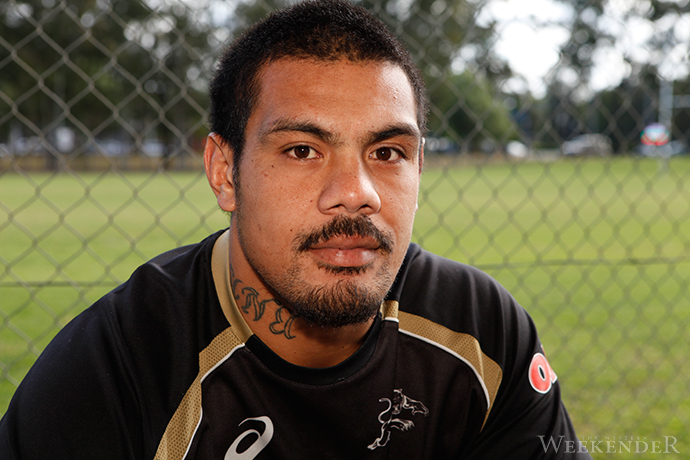 He may be studying the delicate art of tattoo artistry away from football but there is nothing gentle about this 110kg weapon when he's out on the field.

Sika Manu was one of Penrith's prized signings last season following his switch from the Melbourne Storm at the end of the 2012 season.
This year, however, it's taken the New Zealand and Tongan international a little longer to stamp his authority on the field after a major shoulder reconstruction chewed up his entire pre-season as well as the opening few rounds of the regular season.
Manu said he is slowly getting back to his devastating best but recovery both physically and mentally was taking longer than anticipated.
"My shoulder is getting stronger every week and is progressing slowly. It's taking longer than I thought it would but I reckon I'm really close," he said.
"I sometimes lack confidence especially when I'm defending. Sometimes I'm scared to take a hit up because it was a massive injury and I'm just a bit cautious at the moment."
With injuries to fellow Kiwis in Elijah Taylor and Lewis Brown, Manu has teamed up with 22-year-old Tyrone Peachey in Penrith's starting back-row. The Storm premiership winner said he's learnt a lot from his on-field partner in crime, who himself only joined the Panthers this season.
"Peachey's got a really good attacking game and I'm slowly picking up on that, just learning how he gets around the field," Manu said.
"I'm also learning a lot from young [Isaah] Yeo, who is a really tough competitor."
But it's injured new teammate Taylor who Manu really admires when muscling up in defence.
"ET's a real workhorse, it's unfortunate we've lost him for a few weeks, he was a massive buy for our team," he said.
"I played with him a few years ago with the Kiwis and his work rate is outstanding, hopefully I can get up to his level one day."
And as the season rolls on, fans hope he does too.
Manu was again a little quiet against the Raiders last Sunday but with the bye this weekend, he'll be back to full fitness for next Friday night's blockbuster against Parramatta at Sportingbet Stadium.
The Panthers are also hoping that Taylor may recover from his injury in time to make a comeback in that game, which is set to be played in front of a sellout crowd.