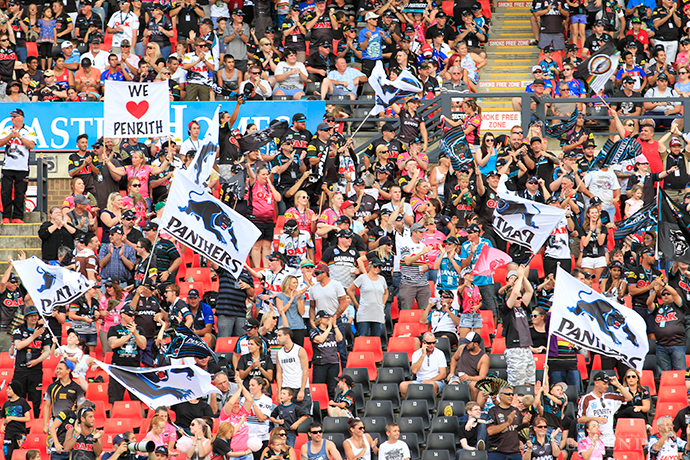 Penrith did enough in wet conditions to beat Canberra 12-6 last weekend, but I don't really want to write about that today.
Nor do I want to write about the ins and outs of Friday's blockbuster against South Sydney at Sportingbet Stadium.
Instead, let's talk about you.
Actually, not all of you – the 7,667 people who turned up to Penrith Stadium last weekend are excused.
I realise that last Saturday night's game was played in terrible conditions, though it must also be said that the huge downpour of rain came after kickoff – and in the hours leading up to the game there wasn't a speck of rain – so using that as an excuse for the low patronage doesn't really wash with me.
Penrith, it just wasn't good enough.
And it won't be good enough when you all jump on the bandwagon a little while down the track and claim you've been attending games religiously for years, even during the 'tough times'.
And it'll probably be too late when you scream the joint down if Phil Gould and his management team decide to move games to ANZ Stadium or other venues next year.
You'll take to social media saying how unfair it is. You'll have conversations with your mates about how you always knew this would happen with Gus in charge. You'll wish the 'good old days' were back.
And while you're doing all of that whinging, you'll forget to blame yourself.
You are from the same group of people who whinge that empty seats at ANZ Stadium look awful on television, but do nothing to fill those seats (though the ANZ debate is one for another day).
Everyone loves a winner – I get that. But that should not be what this city is about. That's not the Penrith I grew up in and that's not the Penrith I see in the pages of the Weekender each week, which highlight some of the amazing things that happen in this region.
More than 16,000 people rocked up at Leichhardt Oval last Sunday in bloody awful weather to cheer on the Wests Tigers. The effort of that crowd at one of the worst venues in the country in terms of parking and comfort in the wet should be admired and puts what the people of Penrith did last Saturday to shame.
The people of Penrith turned their back on their team, put their slippers on and watched the game in their lounge room instead.
And to themselves, the excuses make sense.
It was wet! Indeed it was, but some of my best memories watching the Panthers have been with the rain tumbling down, feeling like you're going the extra mile to support the blokes who are bleeding for you, the Penrith jumper and everything it embodies.
It's expensive! Footy tickets can be expensive, but the club has done everything possible to make it more affordable this year – including cutting the price of memberships, payment plans and pre-sale discounts.
In fact, the club has more than done its share of the work this season.
It has brought you superstars to watch – Jamal Idris and Jamie Soward at the top of the pile.
It's listened on food prices – and offered some darn good discounts for members last weekend.
You wanted three grades of footy like the "good old days", so the club delivered.
You weren't coming to games, so the team behind the scenes worked to overhaul the match day experience, with more changes to come.
But you? You just whinged about a scoreboard being taken down and how long you had to line up for a beer.
Come on Penrith, you can do better than this.
Let's show that no matter what the weather, Penrith people really do care about their team – so much so that they'll sit through anything.
Let's show that Penrith Stadium is a fortress to be reckoned with, backed up by a passionate supporter base who never say die.
As fans you should never, ever be taken for granted. But you have to turn up to earn the respect in the first place.
Penrith has two home games in the next two weeks.
It's in your hands now.