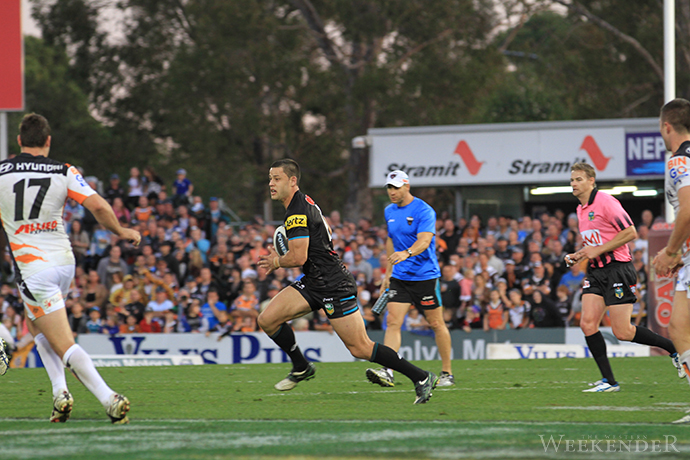 Since bursting onto the NRL scene to rave reviews in 2012, Panthers second-rower Matt Robinson has gone from one of the game's most promising new prospects to one of its unluckiest.

In the space of 12 months, the Kiwi-born talent has endured a devastating run of injuries that have included being heavily concussed, breaking his neck, off-season ankle surgery and in February, rib cartilage damage in the recent trials.
The run of bad luck was a testing time for the 23-year-old, who in 2012 inked a new two-year deal only to play just 11 games in the top grade last season.
"I'd never been injured during my career, so it's been a learning curve but an interesting experience at the same time because I now know what my teammates would go through," Robinson said.
"I was a bit naïve [before the injuries] but I learnt a lot about myself and hopefully it's all done for the season."
When Robinson was at his best just a season and a half ago, he was putting backs through holes, offloading like the New Zealand Warrior he once was, and scoring spectacular tries himself.
However, all that good form seemed a distant memory only a matter of months ago when Robinson had his biggest setback yet – fracturing his C6 vertebrae in a game against the Parramatta Eels.
"It takes you to a dark place. I had more than a month off from training and for the first couple of weeks after the injury it was pretty nerve racking," he admitted.
"I kept asking myself 'what am I doing?'. I questioned coming back to footy at all."
Robinson revealed how for the first few weeks he did "absolutely nothing" and most likely wouldn't have returned to his usual, positive self without the care of his loving girlfriend.
"I did no weights, no running, no cardio, I didn't even come to training or think about football. All I did was read a few books and watch a lot of TV," he said.
"My girlfriend was really good supporting me though, she even offered up the odd counselling session every now and then."
Robinson made a successful return to football last weekend via the NSW Cup, and with his contract due to expire at season's end, he's hoping to catch the eye of coach Ivan Cleary early and extend his stay at Penrith for years to come.
"I was really disappointed when I got injured during the Tigers trial because I was right in the mix [for a first grade spot] at training," Robinson said.
"It will be a slow start to the year but hopefully I can work my way into the 17 and stay there. I want to show what I've got to secure a new contract. I definitely want to stay a Panther."