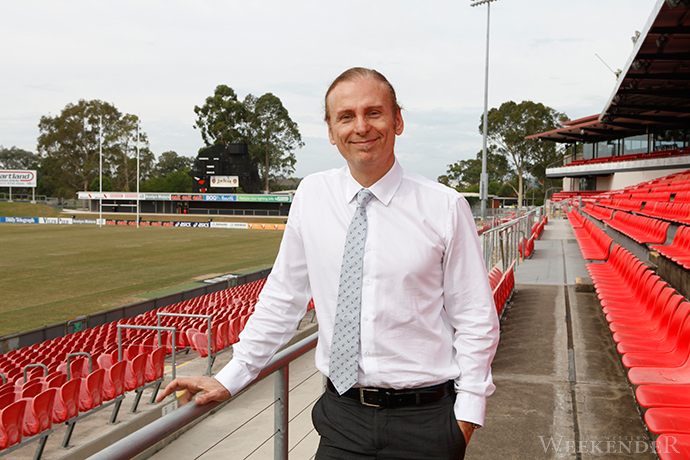 Panthers officials are promising a complete overhaul of the match day experience at Sportingbet Stadium this season and say fans will be "thrilled to bits" by new initiatives to be unveiled at the first home game against Newcastle next weekend.

The Weekender is aware of the changes but cannot reveal them prior to round one – however, they are extensive and will create an ambience and experience unrivalled by any other NRL club.
"We have been working on the first round of 2014 for the best part of the last 12 months," explained Panthers' Head of Marketing, Anthony Frantzis.
"Recognising the need to make the game day experience something extra special for fans has been our top priority – something more than just 80 minutes of football."
Everything from the Pantherettes, to the big screen, innovative merchandise approach, new food and beverage options, along with ordering from the comfort of your seat, has been revamped and fans can expect to be more involved and more entertained than ever before on game day.
"We want to cater for everybody – the dedicated fan who simply wants to watch the footy, but also the family who wants a fantastic day out," Mr Frantzis said.
"I'm delighted to say we have made huge inroads towards that – the stadium changes as well need to be seen to be believed and all Panthers fans need to be here for round one or they'll be missing something very special."
While much of the focus at Penrith has been on building a competitive line-up for 2014, which has in turn resulted in a boost in membership numbers, Mr Frantzis and his team have been working hard to fix what many believed was a tired, out-dated game day experience.
"We've taken on board feedback from our fans, members, corporate partners and our own staff on what we could do to make game day a much more complete experience, and the result is something that fans will be thrilled to bits by," he said.
"I can almost guarantee that if you come along in round one, you will be left totally in awe by what you'll see."
Panthers boss Phil Gould teased corporate partners about the changes at the season launch last weekend, saying "you won't recognise this place in round one".
After being given a glimpse of the changes this week, we tend to agree.
Penrith's first home game is against Newcastle on Saturday, March 8.