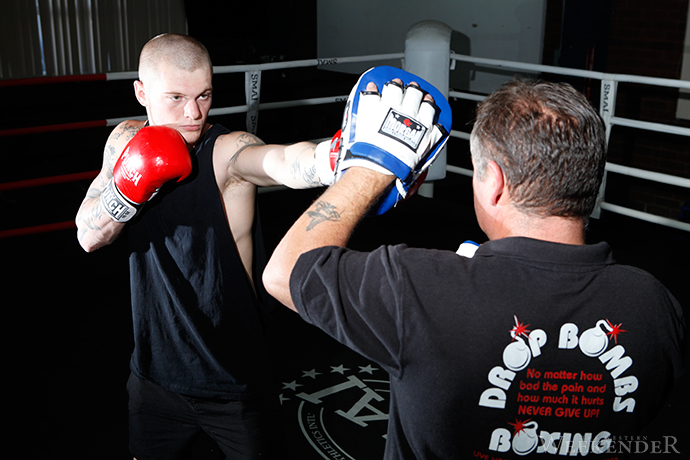 Can you remember the scene from 'Rocky IV' when Rocky Balboa travels to a freezing Russia and is greeted with a rather frosty reception from the crowd who want to see nothing but pain and blood coming from the fictitious American boxing legend?

Well, one of Australia's promising young athletes in the sport of boxing, Londonderry's Daniel Lewis, knows exactly what it's like fighting in front of a hostile crowd in some of the most dangerous countries in the world.
"Last year, when I was 19, I went to Turkey, Albania, Kazakhstan and Serbia, those countries were crazy [to fight in] but sometimes it pumps you up even more," Lewis told the Weekender.
"In Albania it's a whole different world. There weren't any females in the arena, just guys, it was crazy."
Lewis' father and trainer, Jason, said his son had to be escorted out of one country by the local police.
"They wanted to shoot the Aussies," he admitted.
Safely home, Lewis got straight back into his daily training schedule where he spars with his father two times a day – morning and afternoon.
Why such a strict training regime for a 20-year-old amateur boxer? The upcoming Commonwealth Games trials, that's why.
Later this month, Lewis will strap on the gloves at the NSW Commonwealth Games Selections Trials program at Richmond Greyhound Club in Londonderry, where he'll fight for a spot in the National Championships in Perth this April.
Lewis is red-hot favourite to win the 69kg division and progress to the National Championships where he'll fight for one of two places on the Australian Glasgow Commonwealth Games team.
"I have a few tough boys in my division, a couple that I've fought before and I've beat them all but it's still going to be tough, I won't take it lightly," Lewis said.
"It'll be awesome to make the Commonwealth Games team because of the hype. It'll be all over the TV, it'll be on the news."
Lewis started his boxing career when he was 11-years-old but wasn't able to take the sport seriously until he turned 14 – the legal age to box in NSW.
"My dad and I would travel everywhere including Tasmania and Canberra to get a fight," Lewis said.
"I want to one day make a living out of boxing. I wake up and train in the morning, do a few chores around the house and then train again in the afternoon. I want to make it my life."
The young prodigy has even garnered the attention of legendary trainer Johnny Lewis (Jeff Fenech, Kostya Tszyu), who regards Lewis as a future Olympic and World Championship gold medallist.
Boxing fans are invited to the State Commonwealth Games Trials on Saturday, February 22 from 5pm and Sunday, February 23 from 12.30pm at the Richmond Greyhound Club. Tickets are $25 each.
Also on the program that weekend is 15-year-old Nikita Tszyu, the son of four-time world champion, Kostya.