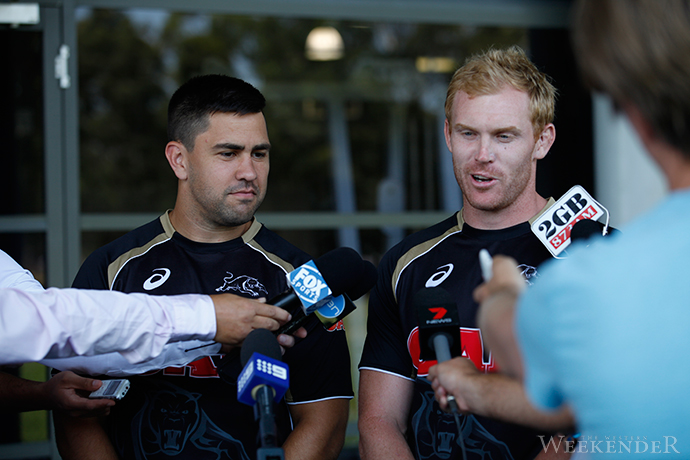 Jamie Soward and Peter Wallace say they have nothing to prove at Penrith, but there's no doubt that the rugby league world's eyes will very much be fixated on the pair this season.

Soward left St George-Illawarra in difficult circumstances mid-way through last season while Wallace was unwanted at the Broncos.
Now the pair hope to emerge from the rugby league scrapheap to spearhead the Panthers' campaign for a finals spot in 2014.
"We've both played a lot of games and you only have to come and watch the field sessions to see we suit each other's game pretty well," Soward said.
"I'm looking to try to tap in to some of his (Wallace's) skills and have a big year personally, but make sure that the team is going forward."
Soward is impressed with Penrith's roster for 2014 and says the experience of players like Brent Kite will help the club.
"There's a lot of experience that we've bought this year but that's going to mean nothing come round one," he said.
"We need to make sure that we've got that we've prepared well and get off to the right start. We're doing a lot of hard work at the moment and still working on combinations."
Wallace's homecoming follows his three year stint at Penrith from 2005 to 2007, where he struggled to cement a position in the team behind captain Craig Gower. As a St Marys junior, he says it feels good to have returned to the area he knows so well.
"There's a really good feel around the place and it's good to be back," Wallace said.
"It's great to have an opportunity to come back and hopefully finish my career here."
When Soward agreed to a Phil Gould lifeline mid-way through last season to come to Penrith in 2014, the club had yet to sign Wallace or players like Jamal Idris. Now, Soward can see the side has the potential to make an impact in 2014.
"When I signed I was coming out here for an opportunity – the rest was left up to the behind the scenes people," he said.
"It's exciting times for Penrith and exciting times to be a Penrith fan, now it's just a matter of us getting the results.
"For us it's about getting consistency and getting into the eight to start off with and seeing what happens from there."
Despite knowing the wider rugby league move will be watching their every move this season, Soward is confident he can shake off any criticism.
"Me and the bloke next to me have nothing to prove because of the way we finished our time at other clubs," he said.
"We're not going to answer questions about the Dragons or the Broncos all year, we're here to talk about the Panthers. We've both got good contracts here and we're both experienced enough to be able to handle it."