The Gold Coast offers what appears to be a picturesque, carefree lifestyle for a footballer but for Jamal Idris, it was anything but.

The 23-year-old, who started training with the Panthers on Monday after being granted a release by the Titans last week, says at times he would stare at the TV or "four walls" for hours on end, desperate to be back in Sydney with his family.
Good friend and coach John Cartwright knew Idris was desperate to return home.
"He was quite happy and told me to look after mum and come back to Sydney," Idris said.
"Carty is one of my best mates – I love him to death and the boys are awesome as well but at the end of the day I was up there by myself.
"They all had families and I was sitting there watching four walls.
"Family is massive to me and I think it is to everyone as well."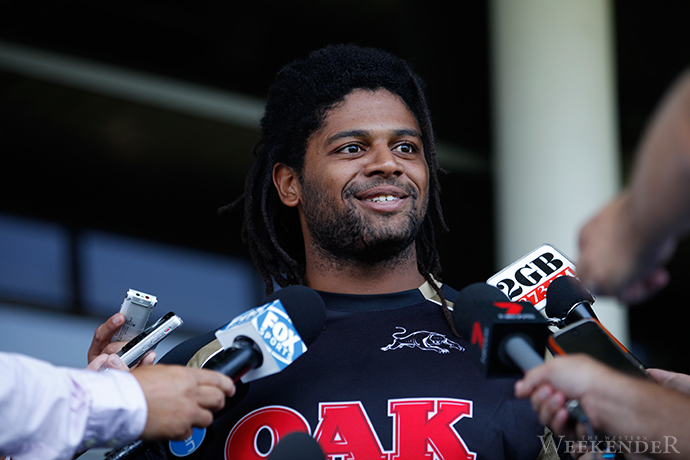 Idris strikes an imposing figure while training at the Panthers gym – standing out like he has since making his first grade debut with Canterbury back in 2008.
But standing alongside players like rising star Eto Nabuli or the stocky Josh Mansour makes Idris realise he's still got plenty of work to do to be at his peak fitness.
"When I used to do weights they used to call it social weights because I used to walk in and talk to everyone but I think I might have to start lifting now," he joked.
"I just want to play football – I haven't played since the end of June. I was loving it at the time too so I just want to get back on the field."
At 23, Idris still jokes around – even with an often punishing media pack – but he's clearly matured and is ready to play some of his best football at Penrith.
"I've experienced a lot in my life and I think I'm a bigger and better person for it now," he said.
"The club's got a lot of good things coming and a lot of good things in store so hopefully I can be a part of that now and I can grow and the club can grow as well.
"You don't play to lose – you run out on the field every time thinking about the grand final, and thinking about a premiership.
"I'm not going to say we're going to get it, I am going to so say we're all going to try to do it – that's our goal."
Idris said he will be fit to start the 2014 NRL season despite having some minor work done on his knee, and is also keen to play in next month's Nines tournament if the opportunity arises.