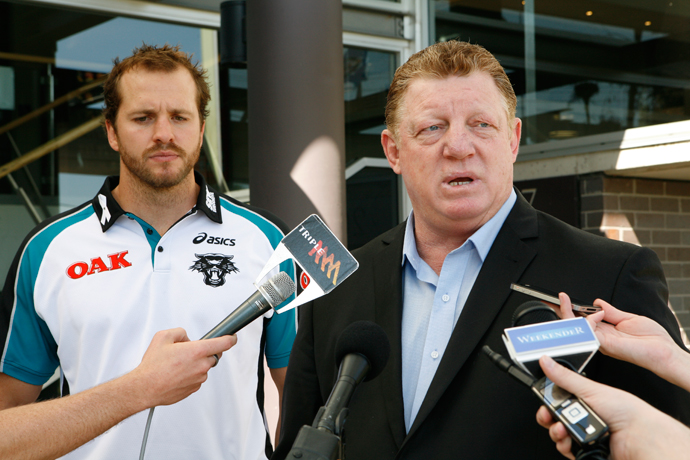 When Panthers Chairman Don Feltis offered Phil Gould a new deal at the club, it took him just two minutes to accept.
Gould signed the contract extension this week that will keep him at the Panthers until the end of 2017.
With a year still to run on his current deal, which he signed back in 2011, Gould said the offer from Mr Feltis to remain at the foot of the Mountains for an extended period came "unexpectedly".
"The moment the offer was made however, I had no hesitation in accepting," Gould told the Weekender on Wednesday.
"Don and I shook hands within two minutes. The offer was both flattering and humbling. I have thoroughly enjoyed the last two and a half years working with the club and I am enthusiastic about being around for another four seasons."
In his second stint at the Panthers, which began nearly three years ago, Gould along with Penrith's upper level management including Mr Feltis, Warren Wilson (Panthers Group CEO) and Phil Moss (General Manager Rugby League) have dramatically turned the Panthers around from being a team no one but their fans really cared about to a club that's now on everyone's lips approaching the 2014 season.
"To be honest, the last two years have been primarily about survival whilst at the same time putting in place the foundations on which we can build the future of the Panthers," Gould said.
"We still have a long way to go and a lot of hard work in front of us but make no mistake, from now on Panthers is not in the NRL competition to simply make up the numbers. We are not even in this competition to run second. Our goal is to work hard towards securing our next premiership," Gould said.
And that long-awaited third premiership may not be that far off if you look at the abundance of youth and experience the Panthers have developed and recruited over the recent off-season.
With marquee signings like Jamie Soward, Elijah Taylor, Jamal Idris and Brent Kite among a host of others signed up for the next couple of years, fans have every reason to be excited about the future.
"I am extremely pleased with the way our playing roster looks for the 2014 season," Gould affirmed.
"Every player we have recruited for season 2014 had other options available to them. The fact they have chosen to come to Panthers is great recognition for what we are doing here."
Gould said his role over the last few years at Penrith has been "diverse" and he expects it to be that way over the next couple of years.
"My role at Panthers is difficult to describe but what I do know is that at this point in time we have the very best people working in the right roles in all areas of our club and football operations," Gould said.
"I am extremely confident though, that we have the talent and motivation to achieve our goals."