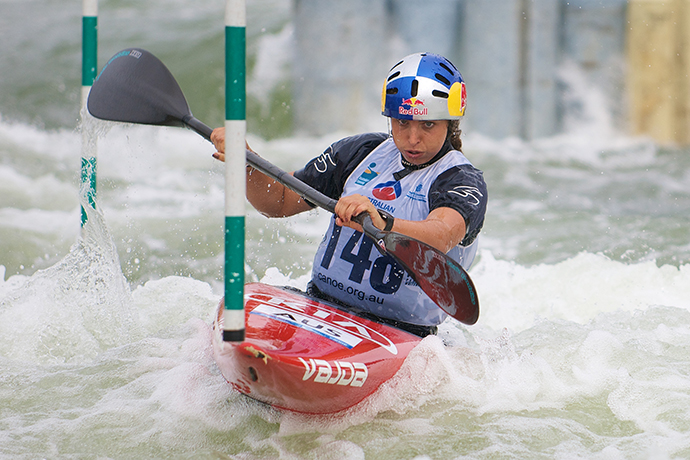 Jessica Fox and Robin Jeffery are off to the perfect start at the Australian Open and National Slalom Championships in Penrith today.
Fox produced a faultless performance down the 20 gate course with her first run time of 92.96 too good for her rivals.
The London K1 silver medallist was pleased with her performance regaining the National title after she was beaten by Rosalyn Lawrence in 2013.
"I am definitely pretty happy, I was third last year after a great year in 2012 at Nationals which was a bit disappointing so to come back and win is really exciting," Fox said.
Victorian Sarah Grant took home the silver for the second consecutive year 0.72 seconds behind Fox. New Zealand kayaker Luuka Jones finished third 1.24 seconds behind Fox.
Junior women's paddler Kate Eckhardt showed some impressive signs for the future finishing fifth in the open K1W field despite being just 16 years of age.
The Derwent River kayaker showed composure beyond her years setting the third fastest first sector time.
"I was really happy with how I raced today I managed to put together a couple of good runs", said Eckhardt.
The victory puts her in the box seat to gain junior selection for the ICF Junior and U23 World Championships to be hosted in Penrith in April.
Eckhardt finished 25th at Junior Worlds last year and hoping to be selected again.
"It was such a good experience last year, I really hope to go again this year and compete against the World's best basically."
In the C1M Robin Jeffery was the standout performer winning the open National title.
The Western Australian crossed the finish line 87.40, 1.53 seconds ahead of Ian Borrows.
Victorian Christian Fabris finished third 1.68 seconds behind Jeffery with the trio of senior men dominating proceedings.
Jeffery said he really enjoyed the course today.
"It was a fairly straight forward course but a great course for racing. It just let you go hell for leather and have fun the whole way down", he said.
After making a few mistakes on his first run Borrows recovered in his second run but is looking forward to improving in Sunday's semifinal.
"I made a few mistakes on the first run, then I cleaned them up on the second run. It is nice being second but Robbie had a pretty good first run but it gives me something to chase tomorrow so we will see what happens", he said.
In his first year of competing at U23 level Daniel Watkins took out the U23 C1M National title, finishing eighth overall.
The Tasmanian won in 97.21, 1.29 seconds ahead of Victorian Jaxon Merritt. Fellow Derwent kayaker Andrew Eckhardt finished third.
"I am very happy with that, first year in U23s so I am happy with my paddling."
In the junior C1M event Brodie Crawford lead a Western Australian trifecta winning the gold ahead of Steven Lowther and Nicholas Rankin.
The action continues tomorrow K1M, C2M and C1W heats.
Today's heats for the C1M and K1W decided the National winners with the top 30 in each event progressing to Sunday's semifinals of the Australian Open.