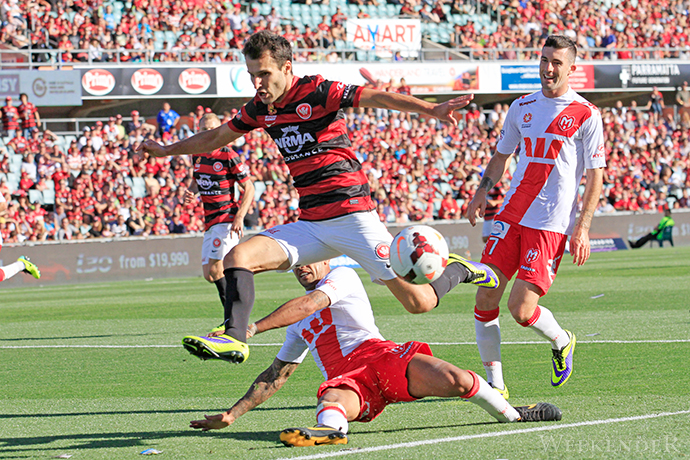 Newly re-signed Wanderers striker Labinot Haliti said there was no other choice but to stay with his hometown club for a further two seasons.

Earlier this week, the Yugoslavia-born star signed a new deal to remain with Western Sydney until the end of the 2015-16 season.
"I'm very grateful, we're building something special here and I want to be a part of it," the 29-year-old said.
"I've grown up here and the club's given me everything, so there's nowhere else I wanted to be. I'm just looking forward to being part of such a great team and building something special."
Since linking with the Wanderers from the Newcastle Jets in their debut season, Haliti has played 27 games and kicked five goals for the Red and Black.
Wanderers coach Tony Popovic said the re-signing of Haliti was a pivotal move for the 2012/13 Premiers.
"Labinot was one of the first players signed at the club and he epitomises everything this club is about," he said.
"He loves the area, he lives in the area and he puts his heart and soul into this football club and you see that every day he trains and every game he plays."
Along with Brendon Santalab, Haliti becomes the second re-signing from the Wanderers' long list of off-contract players for next year.
With Haliti now locked away, attention will now turn to the re-signings of their marquee men Shinji Ono and Youssouf Hersi, who both have received strong interest from rival clubs both in the A-League and overseas.
"They're great players but players are always linked to other clubs, that's the norm," Popovic said.
"I think it's not just our football club but every other A-League club will have those discussions. We're comfortable where we are at with both players at this present stage."
Haliti said he was hopeful his fellow teammates would remain with the Wanderers next season.
"I get along with them very well and hopefully they do stay," he said.