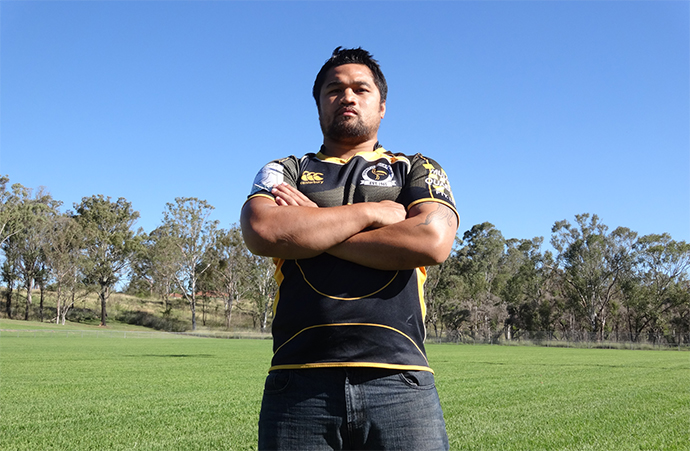 Former Samoan rugby international and new Penrith Emus recruit Notise Tauafao isn't looking for a big pay cheque ­– he just wants to return to the game he loves and lift the struggling club off the bottom of the ladder.

The 31-year-old scrum half, who's played 16 games for Manu Samoa, moved to Australia from New Zealand more than a year ago and settled with his wife and four kids in western Sydney.
Since arriving in the country, Tauafao landed a job as security guard at the Colyton Hotel where, through that connection, he played three games with the Colyton rugby league club last season.
"I haven't played rugby in more than a year apart from three games of league with Colyton, that's when I realised my rugby career wasn't over," Tauafao told the Weekender.
With this new lease on life and renewed passion for strapping on the boots again, Tauafao called Penrith head coach Sateki Tu'ipulotu to enquire about the Emus using his services for season 2014.
"It was by accident really, Notise bumped into one of the players and he gave me a call, I spoke to him and had a look at him," Tu'ipulotu said.
"He said it wasn't about the money, he just likes the story about this club, the bottom of the table, and he wants to take it to the next level."
Tauafao said joining the Emus in the Shute Shield competition next year was the "big time" for him because he missed playing the game so much.
"I always heard the Emus weren't doing well in the competition and I thought this was a good opportunity to help the boys. I can help them," he said.
"I can bring leadership and all the stuff I know about rugby will be useful to them. I can help them build. I'm not doing this for myself but for all the players.
"I'm not here for the money because you have to do the job first before you ask for something."
His coach said he'd love nothing more than to see his new recruit return to rugby's highest level within the next two years, believing anything is possible.
"My short term plan for him is to play consistent first grade rugby and my long term plan is to get him back in the Samoan team for the 2015 World Cup," Tu'ipulotu said.