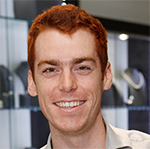 Not just a diamond, it's now a PINK diamond!

We welcomed pink diamonds into our store not too long ago and the reception they have had, far surpassed our expectations.
Keeping this is mind; I included pink diamonds in my latest competition piece. I was recently commissioned by our pink diamond supplier, Pink Kimberly, to design and hand-make a piece as a joint entry in the Diamond Guild of Australia Awards. About six weeks ago, I found out I was a finalist, one of three in Australia for the category. The exciting, yet nerve-racking part is that we will find out this week if we win. I will be sure to let you know how 'Illoura' fairs against the competition.
As I mentioned last week, pink has taken over the jewellery industry. Pink diamonds in particular, are the pinnacle of diamond jewellery. It is a mystery as to why pink diamonds are pink. Scientists have researched and still do not have the answer. It is a natural phenomenon that is constantly being investigated. We do know that they are part of the type IIa diamond group, which make up about 1-2 per cent of the world's diamonds.
These diamonds, titled "beyond rare" by Argyle, are just that. Pink diamonds comprise less than one tenth of one per cent of Argyle's annual diamond production.
People are buying pink diamonds all over the world, for all sorts of reasons. Some just adore the idea of owning their piece of Australia, others for investment and then for love. By giving one of the rarest items in the world, you are symbolising your love in style!
Pink diamonds can be worth 50 times more than a white one of comparable quality and size, and often cannot be replaced. Having said this, we had our customers in mind when we introduced the pink diamond range into our store. The aim was to have pink diamonds available to all, at an affordable price.