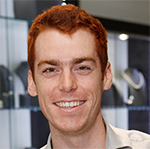 It is an absolute pleasure to have been asked to write a column each week in the Western Weekender. Each week I look forward to giving you important updates from the jewellery industry, letting you know of the latest jewellery trends and of course allowing you the reader to try and see what it is like behind the scenes in the jewellery industry – an industry I love very much!

As a child I remember watching my dad Rob work in our family business, which was then based in High Street. Whilst I saw things through a kid's eyes I was able to see how my dad operated the business, motivated the staff, designed timeless pieces of jewellery and more importantly how he was able to have people come to him years later still loving their individual pieces that he designed.
I am very proud of my dad and he taught me the right ethics from an industry that I have grown to love.
Since leaving school I have been on an awesome journey of learning my craft and nowadays I am able to stand alone and proudly design jewellery for thousands of people in our local region and interstate.
In my weekly column I am also looking forward to educating readers on diamonds, pearls, the intricacy of design and how when a person gets the jewellery right it will last forever more.
Another area we have focused on in recent years is developing an amazing library of our hand made designs – this year we have just released our best ever wish book giving our customers the chance to see some amazing designs and colours designed to make this Christmas the most magical yet.
If you need to discuss your personal jewellery requirements please either call me at York Jewellers or discuss your needs with one of our expert design team and we will be more than happy to play an important role in choosing what is right for you.