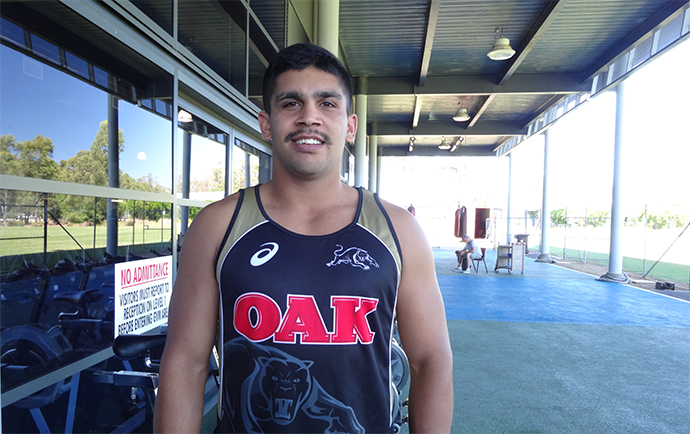 Footy fans only got a small taste of young gun Tyrone Peachey in season 2013 but the 22-year-old has promised the best is yet to come when he lines up for the Penrith Panthers from next season.

Peachey, the nephew of legendary Cronulla Sharks fullback David Peachey, is bursting with confidence since arriving at the foot of the Mountains last week, declaring he wants to be in Ivan Cleary's top 17 squad come round one next year.
"My goal is to have a massive off-season and I want to be in the top 17 in week one," Peachey told the Weekender.
But with so many experienced players including Lewis Brown, Sika Manu, Adam Docker, Matt Robinson and Elijah Taylor all vying for a second row or lock spot next year, just how will the dynamic youngster squeeze his way in?
"That was the same situation at Cronulla too, they had a lot of good players including the best lock and best back rower in the world but I had a big pre-season there last year and ended up getting seven NRL games," Peachey said.
"I just need to have a big pre-season here and hopefully I'll get more than seven games."
Despite being fairly light size-wise for his position in the forwards, tipping the scales at just 87kgs, Peachey sees that as an advantage over his competitors and believes he has a number of rare qualities that set him apart from the rest.
"I think I bring energy, spark, flare and an X-factor to a team," he openly admitted.
"I want to get a little bigger but I don't want to lose my speed, that's the one thing I've got over the other boys. Hopefully I can get a bit more size but not lose my speed."
Peachey signed with the Panthers on a two year deal back in June after the club, according to the 2013 NSW Cup premiership winner, showed more interest in his future than his current employer at the time, Cronulla.
"Gus and Ivan made me feel wanted and I could see that there were a lot of good young players over here, many that I grew up with through the younger grades," Peachey said.
"Penrith have a good team, they are going forward and it's going to be good playing with the younger blokes next year."