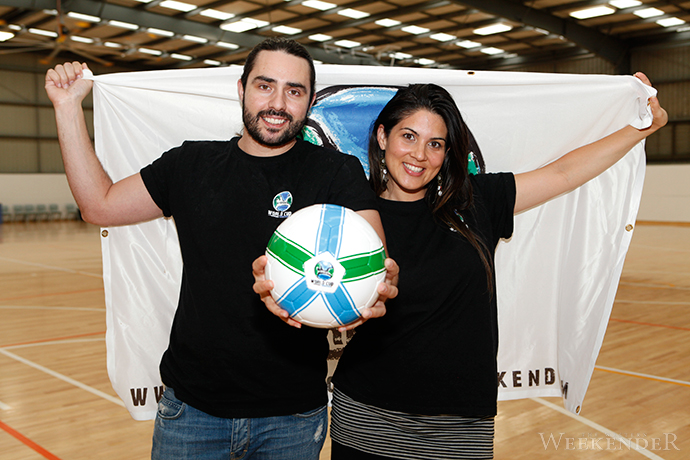 Local futsal fanatic Gus Orchjo has turned his life-long passion for the five-a-side football code into a month-long international celebration.
The 2013 Futsal World Cup Weekend, which was created by the Cranebrook resident and his partner Silvania Guerrero back in 2011, will return next month at the Hawkesbury Indoor Stadium in South Windsor.
This year the Futsal World Cup Weekend promises to be bigger and better than ever with four major futsal tournaments set to be held across four weekends in November including All Age Men (November 9-10), Male Youth 17-20 years (November 16-17), Men Over 35's (November 23-24) and All Age Women (November 30-December 1).
"I've played both futsal and football for many years and after going to tournament after tournament I was always left feeling unsatisfied, so I came up with the idea to have more entertainment and make it a tournament for the players," Mr Orchjo said.
"I thought making it a World Cup theme would make people feel like pros at least for a weekend."
The way the Futsal World Cup Weekend works is each team that registers in one of the four tournament categories will be required to select a country and they'll play as that country for the entire weekend.
Each tournament will be made up of 32 teams with the winners of each tournament taking home $5,000 and runners-up winning $1,000.
To keep up with the World Cup theme and to make each weekend even more entertaining for players and supporters, there will be a spectacular outdoor festival held outside the venue that will include free entertainment, international food stalls, merchandise stalls, kids activities and loads of fun and games for the family.
"We thought there was nothing for spectators or family and friends who come to watch these tournaments, so the outdoor festival will make it a fun-filled weekend for the whole family too."
Registrations for teams still interested in taking part will stay open one week prior to each tournament beginning. A minimum of six and a maximum of 12 players are needed to form a team.
For more information or to register visit www.futsalworldcupweekend.com.au or call 0402 217 652.