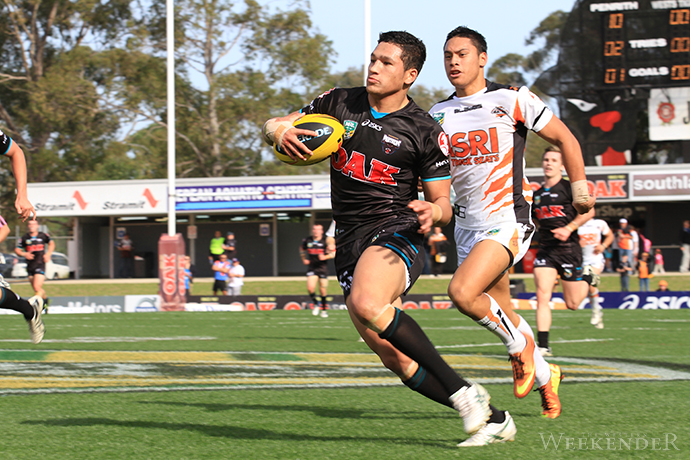 Penrith fans should take a good look a their Holden Cup team for this Saturday's preliminary final against the Canberra Raiders because in three years it may resemble a similar side winning an elusive NRL premiership – that's how special and talented this Panthers team is.
As the team of "future superstars" prepare for the biggest game of their careers to date, their coach, Garth Brennan, has just one simple mission he wants them to accomplish.
"The big key for me is for them to show me how much they want it, don't worry about talking about it, they need to go out there and show me," he told the Weekender.
Brennan has laid down the challenge to his players to make this weekend's clash against minor premiers Canberra the game of their lives, and desperately wants his more experienced heads in Bryce Cartwright, Daniel Foster, George Jennings and James Roberts to lead the way.
"They are probably the better players of the NYC competition, so at this time of year they need to show they are at the top end of players in the NYC," he said.
"I've seen enough of Canberra over the years to know how potent they are in attack. I think they are peaking at the right time. Any side with a quality half like Mitch Cornish, you've really got to be on your toes."
If Penrith fail to deliver this weekend, Brennan admitted the result won't determine whether this season was a success or not, saying the future will dictate that.
"When you coach junior representative sides it's nice to win comps but you're probably judged down the track on how many NRL players develop out of these teams," he said.
Meanwhile, Penrith's NSW Cup feeder team the Windsor Wolves also have a huge challenge ahead of them this Sunday afternoon when they face the Newcastle Knights at Leichhardt Oval for a spot in the grand final.
Windsor coach Guy Missio said his side are prepared and are in good spirits for the clash but know it won't be just another ordinary game.
"People say it's just another game of footy but in the back of your mind it's a game to get you into the grand final," he said.
"The Knights have a very strong forward pack that are very dominant. Kevin Naiqama is probably a player to watch and so are their halves. They have a strong side all over the park, it's hard to narrow one player to shut down."
HOLDEN CUP: Panthers v Raiders, 5.15pm Saturday @ Allianz Stadium. Live on Fox Sports.
NSW CUP: Wolves v Knights, 1.00pm Sunday @ Leichhardt Oval. Live on Fox Sports.