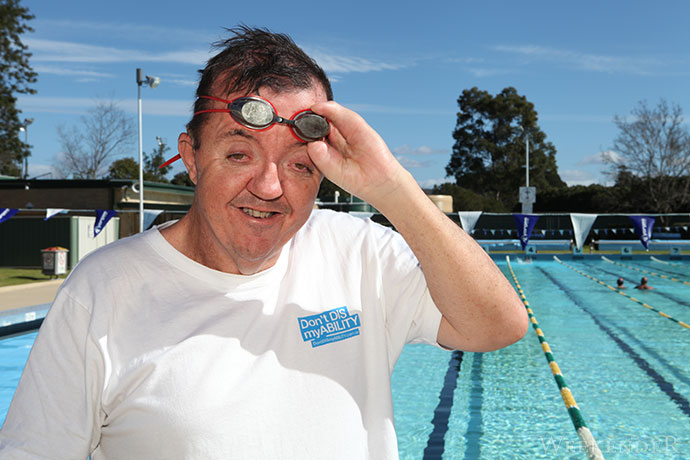 There's a reason people call this man Jason 'Determination' Hooper, and you'll soon find out why.

The 46-year-old was born with the extremely rare Apert Syndrome, which is a congenital disorder characterised by malformations to the skull, face, hands and feet.
Hooper was born with deformed hands and feet, and only has one toe on his right foot but that hasn't stopped him from carving out a very successful sporting career across multiple sports.
Hooper began his sporting career as a runner, which he did for a decade before his ankles gave way.
"My friend said 'you know how to swim boofhead, go and swim," Hooper said.
"So I went to learn to swim at Ripples in St Marys and haven't looked back. Swimming's a great sport and it's not as tough on your body as running."
Hooper has been swimming since 2000 and is currently in training for his final appearance at the Australian Masters Games in Melbourne this October, where he'll be swimming the 50m, 100m, 200m, 400m and 800m.
"This will be my fourth Australian Masters Games… I have won 21 gold over the previous three," Hooper boasted.
"I'm fairly confident I'll do well at this one too. I currently train six days a week at Penrith Pools and North Sydney Pools."
Even though Hooper is a huge inspiration to many, it's quite surprising to hear that he often gets picked on by other athletes and members of the public for no apparent reason. The good thing for Hooper is that he uses these criticisms to fuel his desire to perform better.
"When people say negative things to me I don't fire back, I say 'okay thanks for that'. Then on race day if I'm just getting beat I think of that negative and I just power on," Hooper said.
Hooper isn't sure whether he'll continue swimming after the Australian Masters in October or make another sporting switch – this time to boxing.
He also plans on becoming an ambassador for young disabled kids, so they grow up with the same attitude and resolve as him.