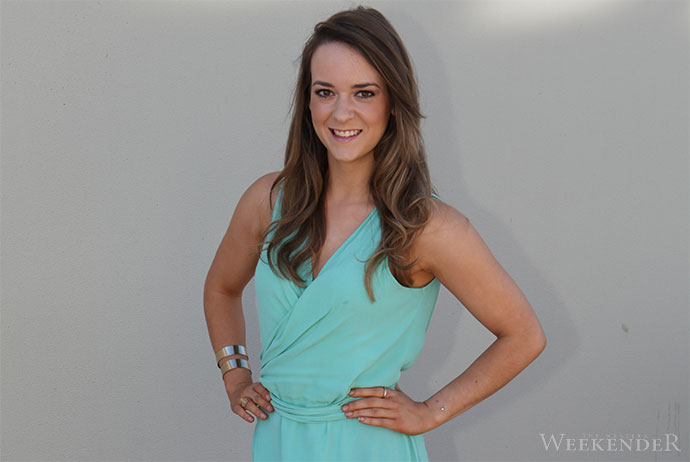 The following pictures and stories outline our nine successful semi-finalists in the Extra Time Cheerleader of the Year competition!
Our grand final winner will take home a $1,000 JB HiFi voucher, a professional photo shoot and will grace the cover of Extra Time for our round 26 edition in a few weeks.
After successfully getting through to the semi finals via public vote, our nine remaining cheerleaders were given two tasks: Write a 200 word piece on why they should be our Cheerleader of the Year, and arrive at Weekender HQ for a photo with the theme "Dress to Impress" in mind.
Now, nine must become three!
Here's how it works from here: Each of our semi-finalists will be given a score out of 10 by each member of our panel, giving each girl a final score out of 50. The three semi-finalists with the top three scores will go through to the grand final. The panel will consider the 200 word piece, as well as the photograph and style the semi-finalist chose for our "Dress to Impress" theme.
Our panel includes Western Weekender editor Troy Dodds, rugby league reporter Nathan Taylor, senior Western Weekender journalist Cassandra O'Connor, and former Penrith Panthers cheerleader Danielle Davis. The final member of our panel is you! Below you will find a special poll where you can vote for your favourite semi finalist. The cheerleader with the most votes will get 10 points towards their 50 total, the cheerleader with the second highest number of votes will get nine points, the cheerleader with the third highest number of votes will get eight points, and so on all the way down to the lowest ranked cheerleader by the public, who will get two points.
Online entries will close on Friday, August 23 at 4pm. The grand finalists will be announced via our Facebook page at that time at www.facebook.com/westernweekender. Good luck to all of our semi finalists… and well done to all the Penrith Panthers cheerleaders on a fantastic season at Penrith Stadium.
BROOKE
I believe I should win the Extra Time Panthers Cheerleader of the Year competition simply because I love what I do.
I have been a member of the Panthers cheer squad for three years now, and have loved every single minute of it.
All my daily work revolves around cheerleading; organising competitive cheerleading competitions, coaching cheerleading to kids all over Sydney, including some of our Kitty Kats and I cheer competitively myself, but cheerleading for the Panthers tops all of that.
It is an amazing feeling to be able to be a part of your favourite team's season and be surrounded by the atmosphere of all the fans at every game from the best seat in the house. Not to mention doing all this with all the other amazing girls that make up the Panthers cheer squad.
We all work really hard at training and at the game to make sure we can be a great squad that the team and the fans deserve. Winning the Extra Time Cheerleader of the Year would just be an amazing way to top off all the hard work I and the squad put in this year and will also top off a great season from the Panthers.
Click here to see a full photo of Brooke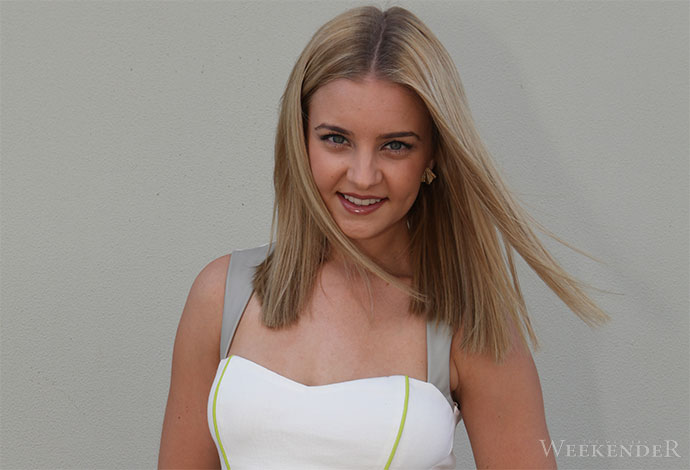 CAITLIN
I believe I should win Cheerleader of the Year as I know I can utilise the title for a greater purpose.
I have recently immersed myself in a multitude of charitable projects, including providing a better quality of life for disadvantaged children and I know that the Cheerleader of the Year designation will bring much exposure towards a truly worthy cause. Concurrently, I believe I am laudable for the title as I have such a passion not only for NRL, but most specifically for the Penrith Panthers and their supporting fans.
It is an experience I have enjoyed since gracing the field as a Kitty Kat at eight years of age and have been a part of ever since. The commitment I have shown to our boys is a true reflection of how fervent and loyal I am not only to every game day, but all my aspirations in life.
Above all, I have great confidence that I can fulfil all the qualities that I believe should be presented by a Cheerleader of the Year including being a vivacious positive role model for the community and using the gifts we have been given for superior intentions by helping others in need.
Click here to see a full photo of Caitlin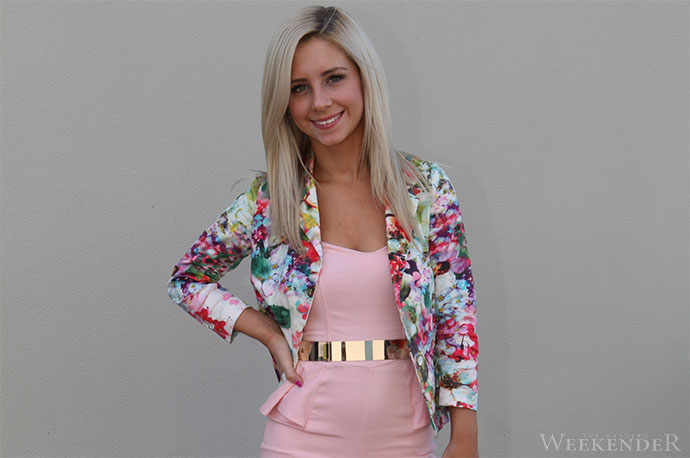 EMILY
It would be such an honour to win the title of Extra Time's Cheerleader of the Year. It's only my first year as a cheerleader and I've loved every moment of it, it's been a lot of fun and definitely the best year of my life so it's sad to think the season is coming to an end shortly.
My absolute favourite thing in the world is getting to perform and getting to do just that at each game whilst cheering on my team is really special!
Just looking out into the crowd and seeing our team colours and the efforts some of the fans have gone to really makes me smile.
I love walking around and getting to meet and talk to the fans and every single game the Panthers fans are full of energy and passionate for their team and the atmosphere is always so exciting! It's great being able to be a part of something like that and feeling that sense of community.
I'm a funny, bubbly girl with a lot of heart and a passion for my team so winning the title of Extra Time's Cheerleader of the Year would be an amazing moment for me and top off what has been an awesome year so far!
Click here to see a full photo of Emily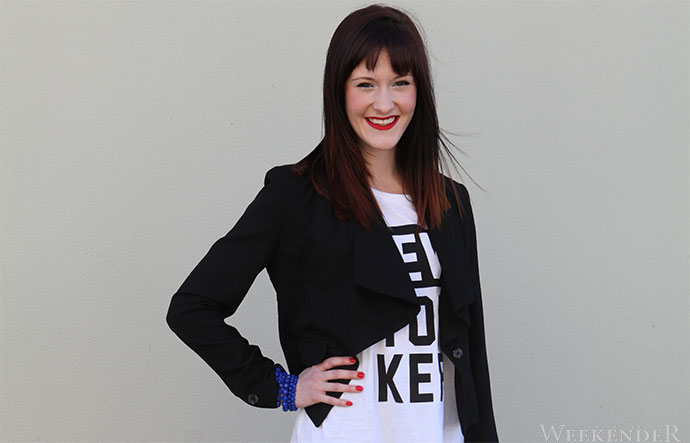 HANNAH
I'm Hannah, 20, and full of energy! (see that rhymes). I am studying a Bachelor of Music at the Australian Institute of Music and am a trained ballet dancer.
I must confess that I love 'The Sound of Music' because I am a massive musical theatre nerd.
My scariest moment was when I was six, I ran out of bread, while feeding the ducks and swans and the black swan got mad and chased me all the way back to the car and started pecking on the car window… I was terrified.
I am very fortunate to have the opportunity to represent the Penrith Panthers as a cheerleader. The rush of performing to a full stadium of passionate supporters, and mixing dance with stunts, energy and cheering is a fulfilling experience!
To me the girls are more than just cheerleaders, but truly talented, smart, hardworking, determined and crazy fun women who all love their footy.
Life is exciting and "I like nonsense, it wakes up the brain cells. Fantasy is a necessary ingredient in living, It's a way of looking at life through the wrong end of a telescope. Which is what I do. And that enables you to laugh at life's realities" – Dr Seuss.
Click here to see a full photo of Hannah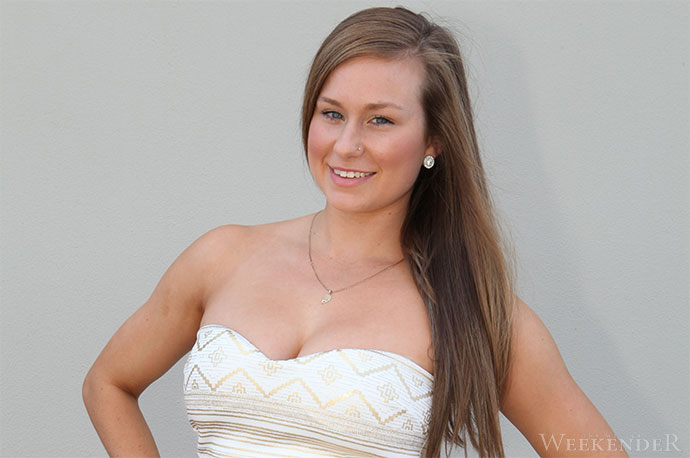 JACINTA
This has been my first year as a member of the Pantherettes and this amazing opportunity has been a positive and fun-filled experience. Being part of the squad and being able to perform with such like-minded professional dancers has been rewarding.
As a dancer since the age of three, and being involved in a range of local and professional dance companies, the opportunity to entertain large crowds during the Panthers' home games has been exhilarating.
My passion has and will always be the entertainment industry.
I have completed a Bachelor of Music Majoring in Musical Theatre from Australian Institute of Music, and I have been a dance teacher at Sally K Dance, a local dance studio for the past six years.
Throughout my life I have had the opportunity to dance in a variety of venues both locally, nationally and internationally.
I will continue in this industry for years to come, but I will always be a local girl at heart.
Click here to see a full photo of Jacinta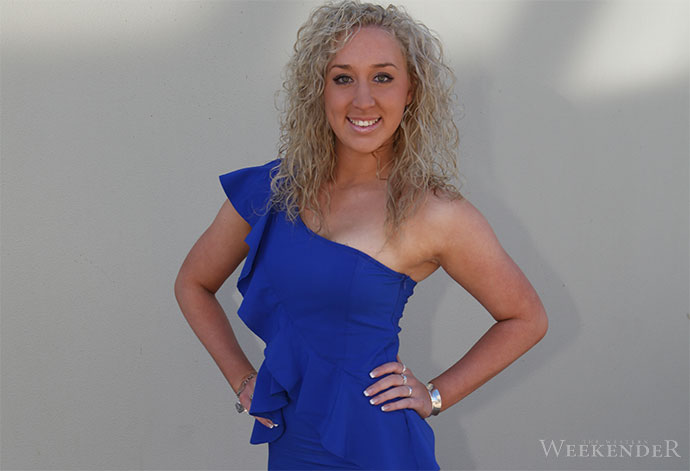 KATI
My name is Kati and this is my fourth year that I have been cheerleading for the mighty Penrith Panthers. I have been dancing since I was three and am now a fully qualified dance teacher, Zumba instructor and American cheer coach.
I cheer because I have a passion for dance but also a passion for the NRL. I have been following and supporting the Panthers since 2000 and I don't only cheer at home games, but also go to away games to support the boys.
Since being a cheerleader I have freely given my time on many occasions to charity and events such as Fitness for Autism, Luke Priddis Foundation, Fan Days and many Women in League events.
As a cheerleader we train intensively every week to perfect our routines and then arrive to the game days two hours prior to kick-off to make sure we are on point and entertaining. There is a lot of hard work and dedication that goes into what we do and you have to love it, which I do.
I would love to be announced the Cheerleader of the Year because it would be an honour and a very proud moment being recognised for my effort, love and passion for cheer and the game.
Click here to see a full photo of Kati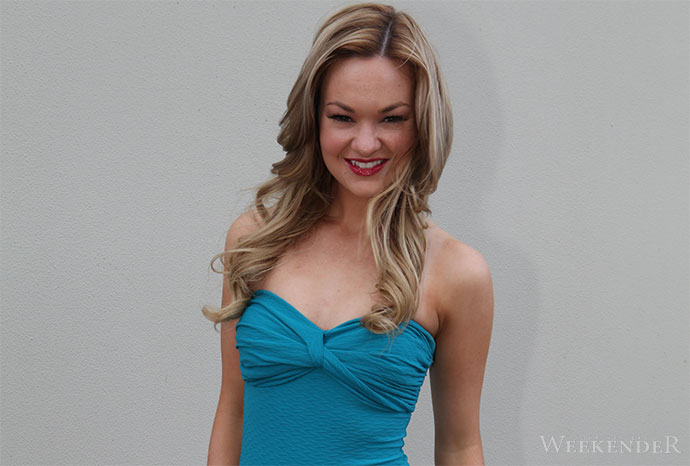 LAUREN
I deserve to win the Extra Time Cheerleader of the Year contest as I have been a member of the Penrith Panthers cheersquad for the past five years, and love nothing more than cheering on my team amongst the awesome atmosphere at Centrebet Stadium.
I have a degree in education and specialise in PDHPE and Dance within a high school context. However, I am currently teaching a beautiful 5/6 class at a primary school and feel that I am not the stereotypical cheerleader.
I am passionate about educating young people and believe that there is nothing more powerful than a curious mind.
If I were to win the $1000 JB HiFi voucher I would donate it to my school's Spring Fair, as a raffle prize, to assist in raising funds for a new building that we have been working towards for a long time.
Click here to see a full photo of Lauren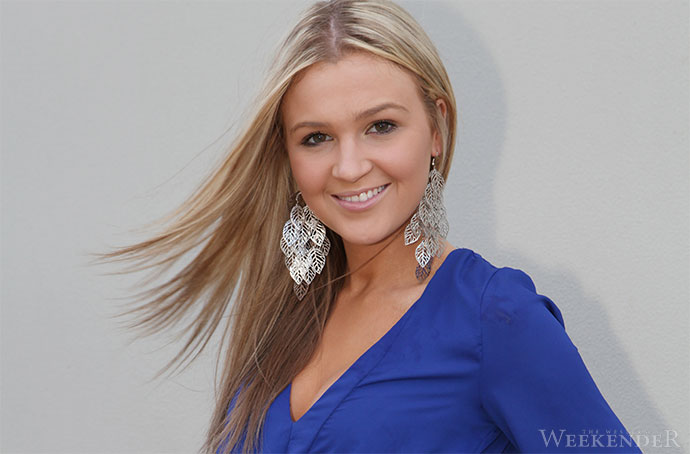 NATALIE
I'm Natalie and I'm 20-years-old. This is my first year cheerleading for the Panthers.
There are two main reasons as to why I think I deserve to win Cheerleader of the Year. Firstly and most importantly, I have always been and will always be a massive Panthers supporter. I come from a very NRL oriented family and have stuck by and followed Penrith through thick and thin!
Ever since I can remember it has been my life's goal to cheer for the Panthers, and this has been the best year of my life because I have been able to do so! My passion for the team comes through at the games in my cheerleading – my reactions and excitement is always very real and over the top! The fact I care so much about how the team goes makes me a good cheerleader as it's a lot more than just dancing for me!
Secondly, outside cheerleading, I am completing a law/arts double degree majoring in politics and international relations. This breaks the stereotype of the typical cheerleader and shows that all of us have substance to us and do a lot more than what is typically portrayed! I show that you can have it both ways and do a serious degree but still live a fun lifestyle.
Click here to see a full photo of Natalie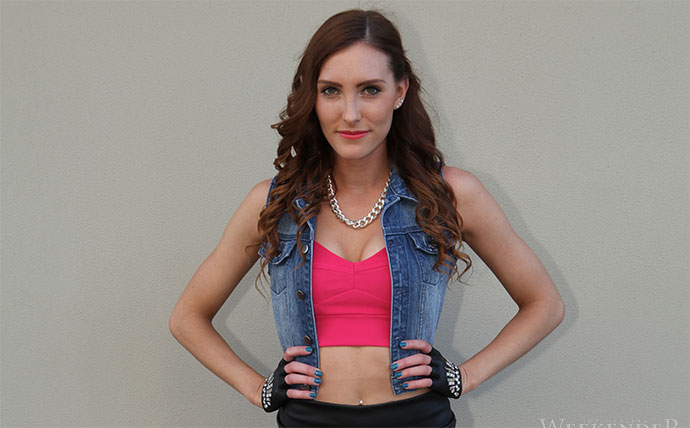 RHIANNAN
I have been cheerleading for the Penrith Panthers for a total of six years and I am currently the longest serving cheerleader on the squad.
Throughout this time I have been given awesome opportunities including working with charities, meeting inspiring people, learning how to do cheer stunts, promoting the club, being a team leader, cheering in the finals, representing the fans, and watching the footy from the best seats in the stadium.
I am very passionate about both dance and sport, and cheerleading combines both.
I studied at university and have graduated with a Bachelor of Health Science (PDHPE) and a Master of Teaching (Secondary). I now teach sport and dance to young people across the western Sydney area. Some of them are underprivileged or have needs, and there is nothing better then being able to give them a chance to get into dance as an outlet.
Before joining the cheer squad, I was in a hip hop crew and use that experience to guide young dancers through developing their talents. If I were to win, I would use the exposure and resources to get to the next level in dance and sport!
Click here to see a full photo of Rhiannan
survey services