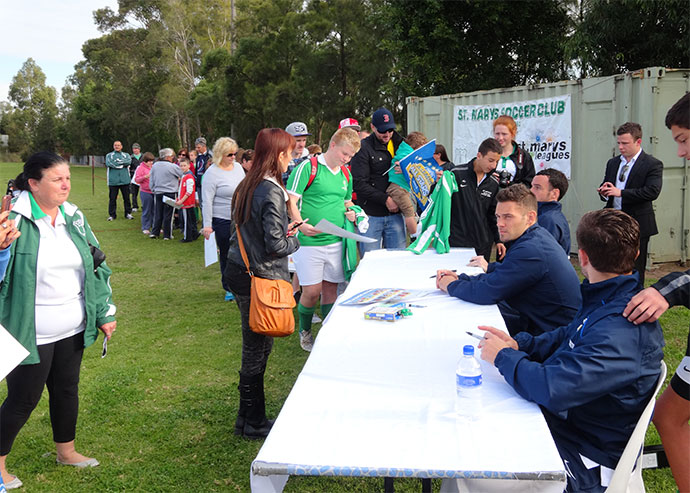 St Marys Soccer Club were treated to a visit by three A-League All Stars players ahead of their highly anticipated clash against Manchester United on Saturday night.

Western Sydney Wanderers striker Mark Bridge, Perth Glory's Joshua Risdon and new Sydney FC recruit Pedj Bojić visited the local club last Saturday afternoon where they signed autographs and posed for photos with fans.
The Shepherd Street-based club were chosen to host the trio by Nepean District Soccer Football Association because of their remarkable rise in recruitment over the past two years which saw them jump from 300 players to 500.
Bridge, a former St Marys Soccer Club junior, said it was a "big privilege" to return to his old club as an All Star.
"To be from around here and come back to do these sorts of things is excellent," he told the Weekender.
"There's very good people at this club doing great things for the community which is very good to see. It's exactly what the community around here needs."
The 27-year-old goal scorer is one of four Western Sydney players selected in the first ever A-League All Stars team to meet the world famous Red Devils at ANZ Stadium on Saturday night.
Bridge said he couldn't wait to soon be sharing the same turf as some of the best players in the football world.
"To be honest to be on the same field as those guys is quite incredible," he said.
"It's just a matter of us preparing as good as we can to try and be at least a little bit competitive against the best club in the world."
Bridge's teammate Pedj Bojić, who last season played with the Grand Final winning Central Coast Mariners before transferring to Sydney FC, is so excited about playing against his heroes he feels like a kid again.
"It's pretty amazing, it's one of those things that doesn't often come around but it's a great feeling to be playing against the best team in the world," he said.