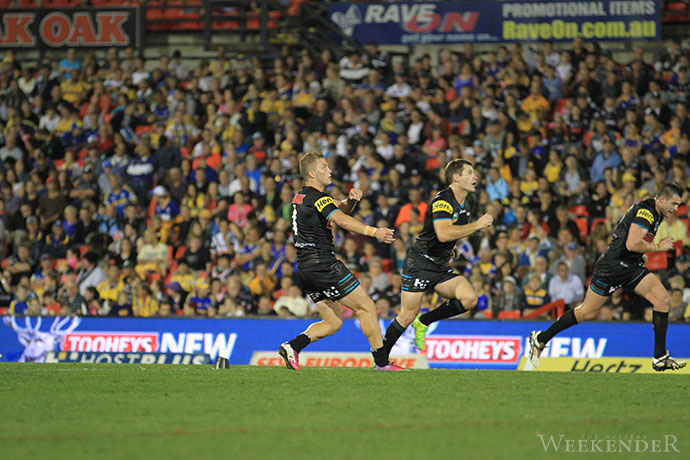 Panthers coach Ivan Cleary is hopeful the National Rugby League will step in to allow rising star Matt Moylan to play first grade again this season after a bizarre salary cap situation forced the club to drop him for tomorrow's clash against the Tigers.

Moylan, a revelation this season, will be forced to play for the Windsor Wolves because if he played first grade tomorrow, it would be a breach of the NRL's second-tier salary cap.

Panthers boss Phil Gould has confirmed that should Moylan play, the club would risk massive fines and potentially be stripped of competition points.

Moylan is not in Penrith's top 25 players, hence the issue.

Speaking at Penrith Stadium this morning, Cleary was baffled by the situation.

"It's really disappointing – it's without commonsense, that's how I would describe it," Cleary said.

"We're going to go through a bit of a process… I think this type of thing will be cleaned up but in the meantime it's frustrating."

Cleary said Moylan was "shattered" over the situation.

"Matt is a local junior, he's on very little money, he's basically playing his way through his career, he's come in and done a good job, and now he can't play anymore," Cleary said.
"It is a big thing what we're trying to do – we're trying to give young players opportunities and the way the current rules are, it's pretty much designed for you to pick a top 25 and they're the ones you're supposed to play your whole season with – what does that say to a young guy?"

Cleary said it was "crazy" that clubs had to pick their top 25 players months before the season kicks off. For Penrith, that has been a major issue given the club is going through a re-building phase and has been hit hard by injury.

Cleary confirmed that Wes Naiqama will come in to the squad for tomorrow's clash, but is hopeful the NRL will fix the situation sooner rather than later.

Despite earlier reports, Cleary said Travis Robinson will be able to play tomorrow, but faces uncertainty over whether he will be able to line up against Canberra the following week.

"Travis has been given the all clear," Cleary said.

"It's a position at the moment where Travis has come in and done a great job and is in line to play against the Raiders next week against his twin brother Reece, which I know everyone is looking forward to, but at the moment there's no certainty that the NRL will allow him to do that."

Cleary hinted Moylan and Robinson would not be the only players affected by the second tier cap situation if the NRL didn't act.

"We're pretty hopeful that the NRL will actually come to their senses and sort this out," he said.

"Hopefully we can get rid of this antiquated, ridiculous system that we've got… unfortunately Matt's situation highlights what not only us but other clubs are going through as well."

Meanwhile, Cleary confirmed that Tim Grant has been ruled out of tomorrow's clash with the Tigers due to a hand injury. He will be replaced by Cameron Ciraldo.