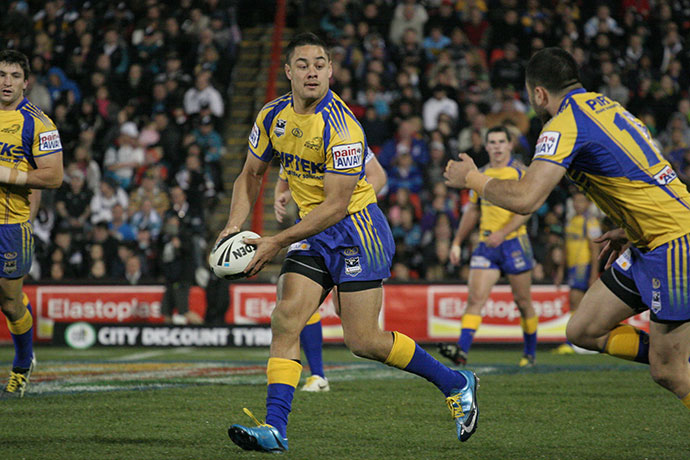 Forget the official preview, forget the tactics and the team changes, let's just get straight to it and tell you the 15 reasons we hate Parramatta:
1. They're Parramatta.
2. Jarryd Hayne. Word is that 'Air Crash Investigations' will feature the 'Hayne Plane' on an upcoming episode.
3. They beat us 19-18 in extra time at Penrith Stadium last year. Not something any Penrith fan wants to see.
4. Back in 2009, they beat us in a crucial game late in the season. A win would have put us in the top eight. We'll never forget the heartbreak.
5. They've won more than 60% of their all-time matches against us. Just not on and it's time the stats turned in our favour.
6. The Eels helped draw Penrith's two biggest ever crowds at Penrith Stadium (22,582 in 2010 and 22,304 in 2003). We'd rather let Rabbitohs fans in for free just to see the Eels' name off the Panthers' record books.
7. Round 1, 2002. It still gives us the chills. The Eels won 64-6 at Parramatta Stadium and Luke Burt scored two tries and kicked 10 goals for a club record 28 points.
8. Parking at Parramatta Stadium. It's woeful. Clearly Eels fans cannot manage a car park.
9. Mitchell Allgood. A Penrith junior playing for the Eels. Enough said.
10. Ricky Stuart's whinging. He's already copped a $10,000 fine this year for having a go at the refs, even though his side was up by 20-odd points against the Titans and blew it. An extra box of tissues will be supplied in the away coach's box at Penrith Stadium this Monday night.
11. Their headquarters is located on "Eels Place". Oh please.
12. Chris Sandow. If Parramatta are down 30-0 on Monday and Sandow kicks a 40/20, he'll cheer like the Eels have just won the grand final. A contender for world's most annoying player.
13. That time they beat us 64-6. So bad we put it in the list twice.
14. They've won more premiership titles than us.
15. That time in 2010 when Penrith led 22-0 at home, only to be beaten 34-28. Any comeback hurts, but when it's the Eels coming back at you, it hurts even more. Not a great night for Panthers fans.
But hang on, I'm not that cruel. There's a few reasons we LIKE the Eels:
1. They've won 11 wooden spoons.
2. They choked in the 2001 Grand Final, somehow losing to Newcastle after dominating the entire season and going into the match as short-priced favourites.
3. They came last in 2012. Feels good to say that, doesn't it?
4. Back in 1993, they got beaten 68-0 by Canberra in round 21. The game should be released on DVD.
5. From round 10, 1959 to round 10, 1960 they lost 19 straight matches. If only they could repeat that feat.
6. Sterlo. No jokes here, we actually really like him.
7. The fact that they won the minor premiership in 1896, according to the NRL Media Guide. Typical Eels, claiming they won something 12 years before rugby league even began in Australia.
8. The Western Sydney Wanderers are now more popular than them at Parramatta Stadium.
In all seriousness, this is a crucial game of footy. The winner gets their season back on track, the loser sets up permanent camp in the bottom half of the ladder.
Rivalries are a wonderful thing. Let's hope Monday night's chapter lives up to the hype, and the past.