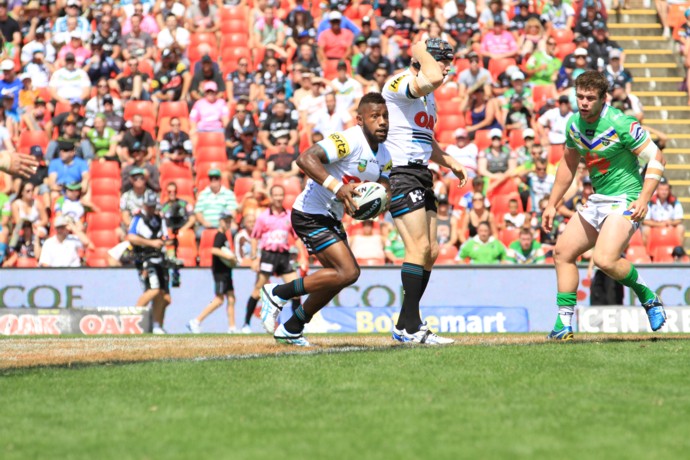 They will deny it, of course, but it only stands to reason that right now, there'd be a school of thought at the Panthers to just give up on season 2013.
The thought may only enter a player's head for a fleeting moment, but that one moment matters. It could be the moment a promising play breaks down because of a wayward pass or a dropped ball.
The thought may only enter coach Ivan Cleary's head for a second, too, but again, it matters. One wrong decision from high in the grandstand or on the training park could be the difference between winning and losing the most critical of matches.
Ignoring those thoughts is one thing. Not having them at all is another.
I've used the "self-confidence" buzz word in this preview a few times over past weeks but there is no better term to describe what Penrith lacks at the moment. They simply don't believe in themselves, and they were well and truly beaten before a ball was even kicked in Townsville last Saturday night.
Losing is acceptable, sport is about that a lot of that time, but not believing you can win should not be part of the plan.
Not one of the 17 players who took the field against the Cowboys last Saturday night would have wanted to get on a flight the next day and return to Sydney without the two competition points. But that does not mean that they didn't fully expect the outcome. You got the feeling, particularly in the early stages of the contest, that Penrith simply hadn't turned up to play.
Mentally, the game was lost well before the boots were laced that day.
TURNING IT AROUND
One thing Penrith has in their favour at the moment is time. It's only round six, and there's plenty of time for a mid-season run of victories to complement wins in about 50 per cent of your matches. That'll get you into the top eight, and anything can happen from there. The problem is, does Penrith believe even for a second that they can beat Newcastle on Saturday?
Does Ivan Cleary believe he has what it takes to outsmart the master coach, Wayne Bennett? Do the players believe they can stop a Newcastle side that has been dangerous at home this season?
Does Penrith have what it takes out wide, given Newcastle's strong backline that has plenty of points in it?
What Penrith need this weekend is for some of their more experienced players to fire up and have big matches.
One is Tim Grant, who has struggled this season to find the form that earned him a sky blue jumper at Origin time last year. He's been dominated by opposition packs, and is showing no sign of the grunt and firepower up front he is known for.
Another is Dean Whare, who has struggled to find his feet in the fullback jumper and needs to find some form quick smart, or he'll find himself on the end of an Ivan Cleary selection bombshell. Lazy is not the word, but Whare is struggling to impress anyone at the moment and simply doesn't do the things that the quality number ones in our game do week in, week out.
THE KNIGHTS
Newcastle went down 19-16 last weekend, though they were never really in the game against St George-Illawarra. It was an entertaining game of footy, but one in which Newcastle never quite clicked into gear. That said, they still played some dangerous football at times, and it'll be tough for Penrith to contain their style of play.
THE FINAL WORD
Finding the courage to tip Penrith this weekend is almost as tough as finding a reason why you should. On paper and on recent form, Newcastle should be too good. Penrith need to prove us all wrong.