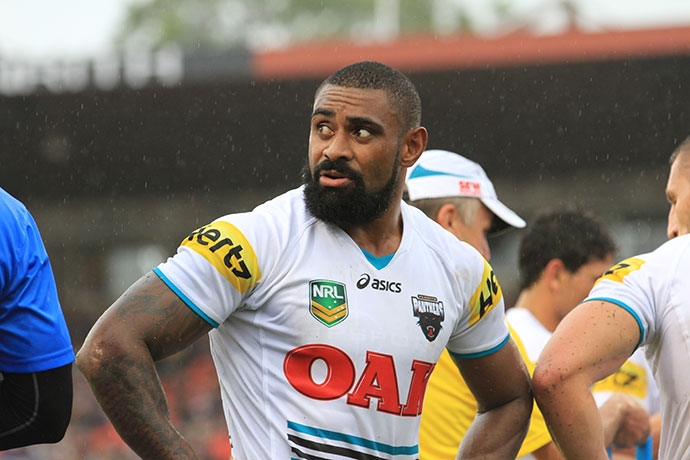 New Penrith recruit, Wes Naiqama says he has nothing to prove to anyone except himself when he lines up for the Panthers this weekend.

The 30-year-old Fijian, who joins the Panthers from Newcastle on a two-year deal, told Extra Time that he wanted to be the type of player that everyone wants to play with.
"I have nothing to prove to anyone except that my main focus is to come here, make an impression on the boys and not let them down in any aspect on or off the field," Naiqama said.
"I just want to be the player that everyone wants to play with.
"In saying that I'm probably one of the older guys in the team, so if the younger players are after any advice or leadership then I'm happy to help them."
After moments of ups and downs on and off the field throughout his eight year career, it appears evident to everyone that the once-troubled Naiqama has turned over a new leaf and is impressing everyone in sight with his new attitude.
One person, one very important person, that can't quite get enough of the "new Wes" is Panthers coach Ivan Cleary, who believes Naiqama has a burning fire in his belly.
"I just have this desire of wanting to play, I love playing football, I love my job and I love what I do," Naiqama said.
"Especially coming to a new club you really want to impress the coach, the staff and all of the players, so I think coming to Penrith has made the desire even more. It's just proving to myself that I've still got what it takes to cut it with these young boys."
Naiqama admitted he was nervous joining the club after four years with the Knights but didn't take long to feel comfortable and right at home.
"The transition has been a lot smoother than I thought," he said.
"I was pretty nervous coming in but all the boys have been awesome, they've welcomed me with open arms and the coaching staff have been great also."
The Panthers will look to Naiqama to help fill the gap left by Michael Jennings, who departed the club in the off-season.
"I played centre in the first two trials as well as a bit of fullback in the Warriors game," he said.
"I do prefer playing centre but in saying that if I was put at fullback I would be comfortable in that role also."