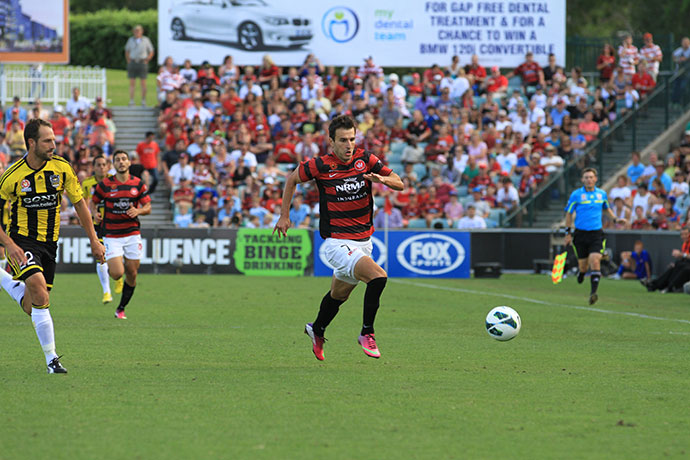 Western Sydney Wanderers coach Tony Popovic has revealed the club is yet to construct a trophy cabinet but may need to call in the builders ASAP if the A-League's newest franchise takes out the coveted Premier's Plate on Saturday night.

The third local derby between Sydney FC and the Wanderers is shaping up to be the match of the season with a sellout crowd and plenty at stake.
Tickets to Saturday night's blockbuster at Parramatta Stadium are so sought after they have been selling for an incredible $170 each on online auction website eBay – that's more expensive than seeing Bruce Springsteen live in concert 10km down the road.
Coach Popovic, whose side is on a record-breaking winning streak of 10, knows it's a big game and one the whole sporting world will have its eyes on.
"It's set to be a big game regardless of what run we are on," he said.
"It's a derby game, it's coming towards the end of the season and I think everyone involved in sport and football in this country is looking forward to see how it goes."
Wanderers captain Michael Beauchamp echoed his coach's comments saying his side is more than ready to rise to the occasion.
"I think for us the derby is a massive game in general, whether it's to take the Plate or not," he said.
"We're taking it like any other game but in a sense with so much more riding on it. There is a chance to take the Plate but we're not putting any pressure on ourselves at all."
Over their last 16 games the Wanderers have won 14, drawn one and lost one – results never seen before in the A-League competition.
However, 32-year-old Beauchamp has refuted claims that it could be beneficial for the side to drop a game and end their record winning streak before the finals begin in two weeks.
"We go into every game expecting to win, wanting to win," he said.
"I think if you're setting up thinking you want to lose because you can play better in the next game then you're lying to yourself.
"From day one we knew what we wanted to achieve as a team and club and that's what we'll continue to do. We're not going there to get one point or lose points, we're going out to get all three."
Unfortunately for the Wanderers they may do it a little tougher on Saturday evening with some key men due to miss the clash through injury including Jerome Polenz (quad strain) and Aaron Mooy (medial strain).