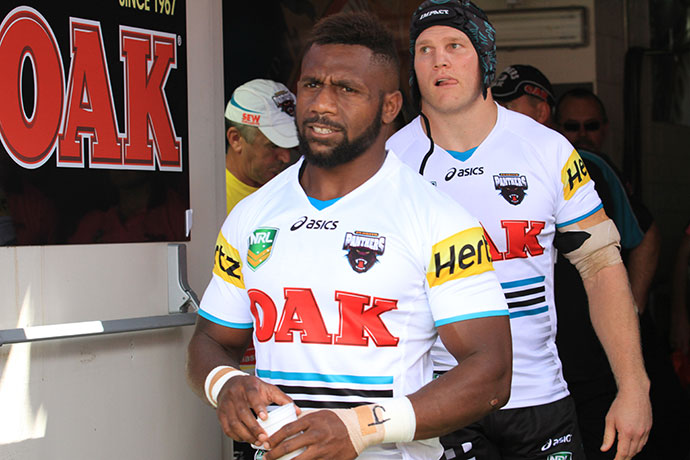 It's only been five months since exciting Panthers hooker James Segeyaro made the move from Townsville to Penrith but his instant passion for his new-found home is uplifting and infectious.

While the 22-year-old has fitted in like a glove on the field, there's no doubt he's feeling pretty comfortable off it too, fast-becoming one of the much-loved characters already around the Penrith area.
But perhaps what Segeyaro loves most about this town may surprise many.
"I just love Penrith mate, I love the Penrith RSL especially, it's outstanding," Segeyaro told Extra Time.
"The Star Buffet is my favourite restaurant spot, it's becoming a weekly thing for me. It's probably both good and dangerous at the same time."
Segeyaro said it isn't just the 'all-you-can-eat' restaurants that tickle his fancy, he also loves a quiet meal with mates down by the Nepean.
"I also love to visit The Coffee Club down at the river which is pretty nice especially around 5pm when the walkers come past," he joked.
"Cootey and I go down there a fair bit. Same with my room-mate Adam Docker and Wes Naiqama, even though Wes is a bit of a pest.
"I think what's best about Penrith is everything is close by and the Panthers club across the road is just outstanding too. I'm really excited about this indoor sky diving centre (iFly Down Under) opening as well. I may have to hit up Uncle Gus for some free passes."
But it isn't just the local hangouts that Segeyaro can't get enough of, it's the fans.
After spending years with a very large and passionate supporter-base in North Queensland, Segeyaro believes Penrith's crop of fans are just as good, if not better.
"The Panthers fans talk to you more on Twitter, it's great getting feedback from them," he said.
"I tweeted after the Tigers game saying 'bad luck on the field' but everyone was really positive, and that's what you want to hear at the end of the day, especially after a loss.
"There's so much heritage that's gone through the Panthers jumper, great players have played in that jumper and it's exciting at the same time because I feel like I'm forging my own future and being a player for the fans."