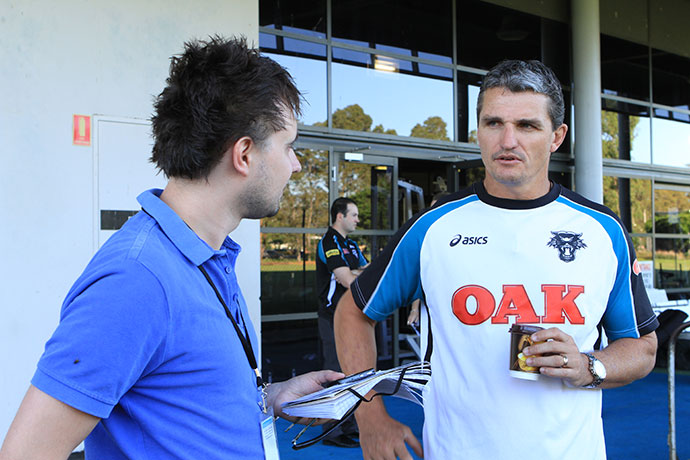 Penrith Panthers coach Ivan Cleary has declared the Canberra Raiders as "very dangerous" ahead of this Sunday's clash at Penrith Stadium.

Speaking with the Weekender at an early Thursday morning training session, Cleary said his side will need to be at their best physically, skillfully and mentally if they're to get over the 2012 semi-finalists.
"The Raiders are very dangerous and physically a very good team, they're big and have a lot of speed," he said.
"Our biggest focus is making sure we do things we know that will lead us to success. If we think we can do that then we're a chance to beat anyone."
Canberra are said to have one of the game's biggest forward packs, their backs are lightning quick and young halves are more than capable to match it with the competition's best.
Cleary said it wasn't a case of matching his opposition on the park it was playing to their upmost potential.
"I don't look at it that way as matching them, I just look at it in making sure that if we play our best I guess you could say if you play your best you can match it with anyone," he said.
"We have a lot of respect for the Raiders, who are certainly a good team with plenty of good players and strike power, so we have to be good."
When Penrith's 18-man round one squad was announced on Tuesday, many fans questioned why the likes of boom second-rower Matt Robinson and utility Blake Austin were left out.
Cleary admitted it was tough to leave so many top quality players out, however it may not be too long for new faces to earn themselves a spot.
"There's a lot of guys who could easily find a spot but I guess that's what you're looking for – competition for spots – that's been the case from the start and I'm sure that will continue," he said.
"You've got to expect that over a long year there will be injuries and you want people pushing other guys. It's a bit hard to know exactly how many guys we'll use but I'm pretty comfortable we've got a lot of players keeping everybody on their toes which means you get maximum performance."