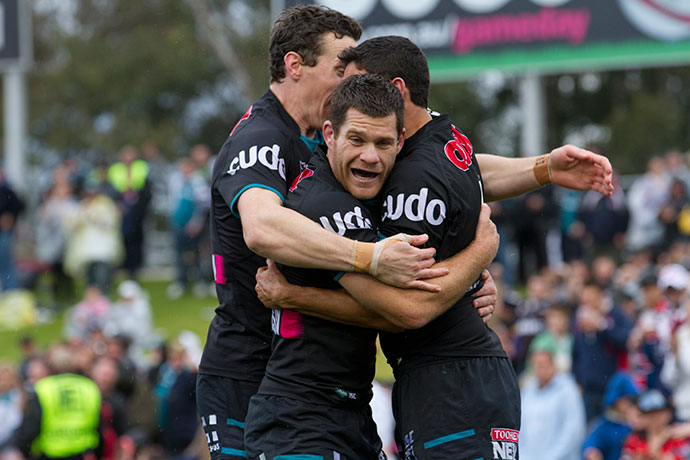 There is an old quote that goes something like, "win as if you were used to it, lose as if you enjoyed it for a change".

Confidence can be an amazing key to ultimate success, and there can be no greater confidence-boost for the Penrith Panthers than to win their opening round clash with Canberra on Sunday afternoon.
A win in round one provides hope, a loss provides the longest seven days possible with a whole heap of concern about what could be ahead next week, and for the rest of the season.
After coming through the trials undefeated, Penrith has every reason to feel that they can topple the Raiders on Sunday.
Both of these sides find themselves low in the ladder calculations of most experts this year, so the team that wins is hardly going to create front page stories.
But there can be little doubt that for the players and the fans, the two points mean something very important.
Almost your entire off-season is building towards round one, and victory can often be the most unbelievable relief, even though it is worth the same number of points as next weekend's match and the many others than that follow during the season.
There is almost a sense of positivity that all of the hard work in the off-season has had some form of immediate success.
One cannot underestimate the mental boost and the statistical advantage that winning early in the season, and finding your feet in the opening weeks of the competition, can provide.
"The Raiders have always been a dangerous side," said Panthers new recruit, Wes Naiqama ahead of the opening round clash on Sunday.
"We haven't watched any video on them as yet, we've just been focusing on ourselves and what our structures are like at training."
The Panthers boast a strong forward pack and whilst Canberra have backs with speed to burn, including former Penrith winger Sandor Earl, it is up front where the home side will do the damage.
The front row features the representative pairing of Tim Grant (New South Wales) and Sam McKendry (New Zealand), whilst Kevin Kingston at hooker is one year older, one year more experienced and relishing the captaincy of the club.
The new-look second row features premiership-winning former Melbourne star Sika Manu, and New Zealand international Lewis Brown.
Nathan Smith, who is out to prove himself in a season in which he is off contract, takes the lock position vacated by Luke Lewis.
It is a strong pack only strengthened by workhorses Nigel Plum and Clint Newton on the bench, and livewire hooker James Segeyaro, who will spend a fair bit of time on the park in place of Kingston.
Canberra on the other hand have a slightly weaker pack, and like always will rely on their backs to score plenty of points in an attempt to skip clear of the opposition.
After training with Trent Barrett in the off-season, there will be plenty of focus on the halves pairing of Lachlan Coote and Luke Walsh, for two very different reasons.
For Coote, the pressure is on to perform in a new position, with his career-defining fullback position now in the hands of Dean Whare, with other players lining up for the number one jumper as well.
Coote played well in the number six last year, and despite mixed performances in the trials, will add some much-needed energy and forethought to the halves combination.
Walsh is attempting to prove his worth, both at Penrith and potentially other clubs, as he continues to battle speculation that the Panthers want to move him aside for Johnathan Thurston.
With Josh McCrone and Sam Williams offering Canberra plenty in the halves, there's a great opportunity for Coote and Walsh to prove what they have got.
At home, Penrith should feel reasonably confident that they can get away with a win.
Don't be surprised, however, to see the betting markets swing if the Raiders announce a couple of surprise inclusions.
Either way, let's just enjoy the return of the footy for another season.